Shows
2014 Art Theme: Caravansary For centuries, Silk Route travelers crossed paths in caravansaries, bustling caravan stops offering more than just shelter from the desert wilderness; they were vital centers of cultural exchange, bringing together traders, pilgrims, monks, nomads, traveling entertainers, and wild-eyed adventurers from all points of the compass to share their stories around a common fire. What Is Burning Man?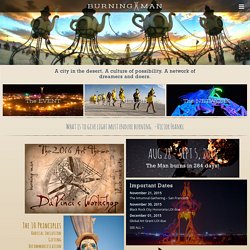 Burning Man Festival - An overview
How To Prepare For Burning Man
How to Thrive at Festivals
Nick Ladd, one of the Glade Festival head honchos, has given us some pearls of wisdom that you won't find in the usual 'festival survival guides'. "Survival is for Bear Grylls – you go to a festival to have a good time" 1. IF YOU LOSE ALL YOUR MATES Don't worry about it… and especially – do not spend the next five hours looking for them, trying to get a signal on your phone and asking people if they have "seen my mate Dave?".