Illustrations
28 Astounding Illustrations by Michael Dashow. Michael Dashow is a science fiction, fantasy, and childrens' 2D and 3D artist.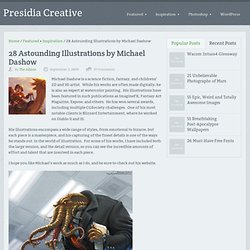 While his works are often made digitally, he is also an expert at watercolor painting. His illustrations have been featured in such publications as ImagineFX, Fantasy Art Magazine, Expose, and others. He has won several awards, including multiple CGSociety challenges. Journey into a Magical World | smashingpicture.com. House at source Low cost airlines Little House on the Prairie Polish bonsai Tide Chess on island.
Mobydick. Eyvind Earle® Brilliant and Epic Character Illustrations. Brilliant and Epic Character Illustrations Amazing and beautiful character illustrations by awesome artists.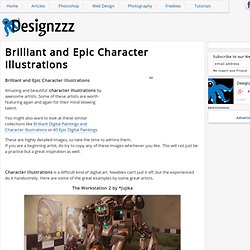 Some of these artists are worth featuring again and again for their mind blowing talent. You might also want to look at these similar collections like Brilliant Digital Paintings and Character Illustrations or 40 Epic Digital Paintings. Impressive Artwork of Waldemar Kazak | smashingpicture.com. 194117_1134393238. Friqt.com. Traders ready to changehange your trading.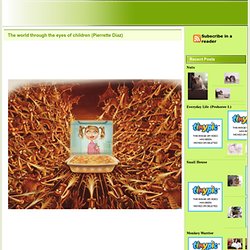 Develop a daily stock trading plan for action on the goal that will help your trading effortsMarket trading swingsWhen a trader undergoes an emotionally harrowing loss, many of the factors associated with that stock trade become associated with the emotional painThe market you are about to tradeYou should know which investment reports affect markets you trade and by how much, and you should know when they are coming outResearch market. 40 Creative and Bizarre Surreal Paintings by Cyril Rolando. Cyril Rolando is a 24 year old artist from Paris, France.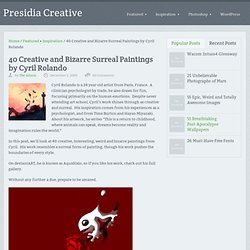 A clinician psychologist by trade, he also draws for fun, focusing primarily on the human emotions. Despite never attending art school, Cyril's work shines through as creative and surreal. His inspiration comes from his experiences as a psychologist, and from Time Burton and Hayao Miyazaki. About his artwork, he writes "This is a return to childhood, where animals can speak, dreams become reality and imagination rules the world." In this post, we'll look at 40 creative, interesting, weird and bizarre paintings from Cyril. In focus: Illustrator Si Scott « From up North. Wilks_s_lg. 100 Fresh New Photoshop And Illustrator Tutorials From 2010. This is a great collection of the freshest and newest design tutorials which where all created in 2010, which is a compilation of both some amazing Photoshop and illustrator tutorials.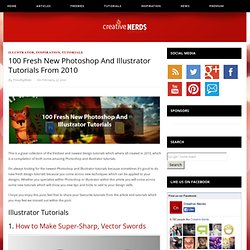 I'm always looking for the newest Photoshop and Illustrator tutorials because sometimes it's good to do new fresh design tutorials because you come across new techniques which can be applied to your designs. Whether you specialize within Photoshop or illustrator within this article you will come across some new tutorials which will show you new tips and tricks to add to your design skills. Do It Yourself Doodler | David Jablow. So I am many things in this world, but an artist is not one of them.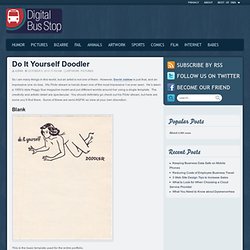 However, David Jablow is just that, and an impressive one no less. His Flickr stream is hands down one of the most impressive I've ever seen. He's taken a 1950′s style Peggy Sue magazine model and put different worlds around her using a single template. The creativity and artistic detail are spectacular. You should definitely go check out his Flickr stream, but here are some you'll find there. LMS - HEX - | Moltee. Jeff Nishinaka :: paper sculpture.
Resources. » Blog Archive » Gunnery Sergeant Thomas Highway. Hi all, my name is Stanislav Klabík and I would like to show you the process of making of my latest personal project named "Gunnery Sergeant Thomas Highway" 3Dtutorials.sk recommendation: To maximise the realism of your 3D characters we recommend using high quality human photo references from the #1 texture website www.3D.sk I really like the movie Heartbrake Ridge where Clint Eastwood play a really tough drill instructor who is in war with marine corps in his platoon so I decided to make a some nice portraits of him.
Modeling I used a simple head model for the first modeling. 30 Amazing Digital Manga Artwork | Flash, Design, Vector, Photoshop, Adobe Tutorials | GraphicMania.net. It is a long time since we shared Manga artwork and Anime inspirations.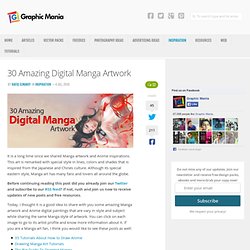 This art is remarked with special style in lines, colors and shades that is inspired from the Japanese and Chines culture. Although its special eastern style, Manga art has many fans and lovers all around the globe. Before continuing reading this post did you already join our Twitter and subscribe to our RSS feed? If not, rush and join us now to receive updates of new posts and free resources. Pirates_Vs_Ninjas_Annual_cove_by_Roboworks.jpg (JPEG Image, 1029x800 pixels) - Scaled (95. Luca Barcellona. Alaska Robotics - Comics - Alaska Robotics - Paper Crane.
Distractions from reality » Digital Artist DAN LUVISI (10 Images) 4Vp9N.jpg (JPEG Image, 1280x356 pixels) - Scaled (77. 55 Epic, Weird and Totally Awesome Images. There are some incredibly talented and creative minds in the field of graphic design.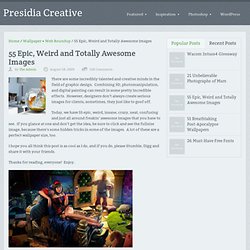 Combining 3D, photomanipulation, and digital painting can result in some pretty incredible effects. However, designers don't always create serious images for clients, sometimes, they just like to goof off. The scenic route. Extraordinary funny and clever illustrations. The Malaysian artist Chow Hon Lam has made some very funny but clever illustrations that also includes a touch of irony. The artist himself thinks that even if you are an animal, an object or some sort of food, you have something to say even though you can't speak. Therefore Hon Lam wants to create and tell their story to the worldWhen people confront him about it, he just say: "I guess they must have something to say … Trust me, I try to communicate with them!"
In the illustrations you can see how a the milk in a cow's body is emptying itself while milking, gingerbread men creating themselves, a golfer breaking the sky with his golfball, etc. Others have done similar illustrations showing how the world would be if everything was different and upside down in our lives. In the visual art world, illustrators have sometimes been considered less important in comparison with fine artists and graphic designers. The Dorm - CoolVibe – Digital Art & Inspiration. Pirate_vs__Ninja_by_Sanaril.jpg (JPEG Image, 1000x686 pixels) Wanderingmonsters_large.jpg (JPEG Image, 1200x767 pixels) - Scaled (90%) 2010-07-23-193-small-wee-ones.png (PNG Image, 960x333 pixels) Digital Art.
---