Walls/Buildings
We declare the world as our canvasStreet Art by Levalet - In Paris, France. We declare the world as our canvas3 Street Art walls with strong emotions. Just "eh" The Urban Speaker: Call it Today - Culture. Philippe Pasqua. Street art & graffiti Vitry-sur-Seine - Alicè Pasquini. - STREET ART UTOPIA. 969years. - STREET ART UTOPIA. Pano4.jpg (1500×761) Das etwas andere Klo-Graffiti | We like that. Holy Moly!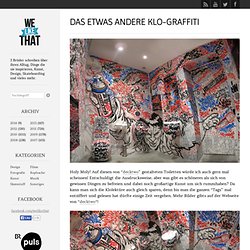 Auf diesen von "decktwo" gestalteten Toiletten würde ich auch gern mal scheissen! Entschuldigt die Ausdrucksweise, aber was gibt es schöneres als sich von gewissen Dingen zu befreien und dabei noch großartige Kunst um sich rumzuhaben? Da kann man sich die Klolektüre auch gleich sparen, denn bis man die ganzen "Tags" mal entziffert und gelesen hat dürfte einige Zeit vergehen. Take a Walk. April 16, 2010 Visitors to lower Manhattan can see public art installations by two members of the SVA community as a part of Re: Construction, a program of the Downtown Alliance, which aims to transform area construction sites into spaces for the display of new public art.
Walking Men 99, a work by alumnus Maya Barkai (2005 BFA Photography), is on view at 99 Church Street, covering plywood street facades that stretch across three city blocks. The 500-foot-long installation features 99 life-size images of pedestrian traffic-light icons. The images were gathered from around the world as a part of Barkai's ongoing project Walking Men Worldwide, for which she has invited people to submit photographs of the familiar pedestrian symbols from across the globe. Before I Die. What is important to you 2011 After Candy Chang lost someone she loved, she went through a long period of grief and depression.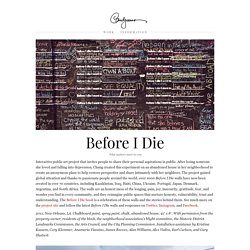 With time she felt gratitude for the time they had together and eventually she found clarity in her life by contemplating death so much. Raewyn_haughton_big.jpg (1049×786) - STREET ART UTOPIA. More info.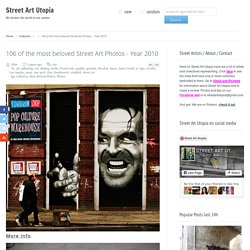 More info. More Banksy on streetartutopia.com. More info. More 3D on streetartutopia.com. - STREET ART UTOPIA.
---