Press & citizen journalism
C4N. Blog Action Day 2009 - Climate Change. Bloggers Unite for a Free Iran (Bloggers Unite) #freeiran #gr88. Global Voices Online. 2010 Internet Censorship Report #freespeech. It is one of the tools used by governments to filter out unwanted information and to prevent the spread through the World Wide Web.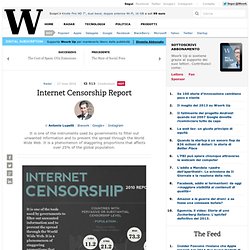 It is a phenomenon of staggering proportions that affects over 25% of the global population. According to the latest data released on OpenNet Initiative and Reporters Without Borders 12 are the countries which have adopted a form of Internet censorship at a pervasive or substantial level.
Prix Bayeux des correspondants de guerre: en photo, prix descern. Mekameta | creative strategist.
---