Validation
Valid XHTML YouTube embed code generator - Online tool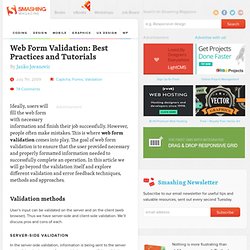 Advertisement Ideally, users will fill the web form with necessary information and finish their job successfully. However, people often make mistakes. This is where web form validation comes into play. The goal of web form validation is to ensure that the user provided necessary and properly formatted information needed to successfully complete an operation.
Web Form Validation: Best Practices and Tutorials | How-To
Using Ajax to Validate Forms
There's two types of validation: Simple, server-independent validation, i.e. checking email address are the right format, password and confirm password matches, etc.Server-based validation, with can be delivered with a page refresh, or live (as this tutorial will explain), i.e. for checking whether a username is taken. What can we do? Live username checkingPassword confirmation and strengthChecking if an email address is already registeredURL validation, i.e. Basecamp's site address checks if the URL is available (pretty much the same as username validation)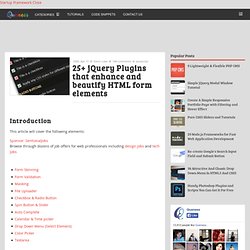 Introduction This article will cover the following elements: Advertisement Form Skinning Frustrated with the form elements inconsistency among different browsers?