Search
Typedia: A Shared Encyclopedia of Typefaces. Sikbox - Live Search for you site. Compfight | A Flickr™ Search Tool. TinEye Reverse Image Search. Keyboardr. TimThumb PHP Script Released. The custom image-resize script created for Mimbo Pro is now available as an open-source project!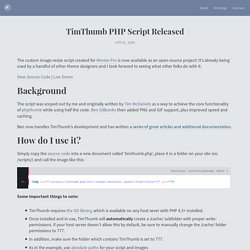 It's already being used by a handful of other theme designers and I look forward to seeing what other folks do with it. View Source Code | Live Demo Background. Annuaire de scripts PHP - Moteurs de recherche. PHPScripts - Scripts PHP / MySQL - Moteurs de recherche. Vous trouverez, classés dans les catégories ci-contre, 534 scripts complets.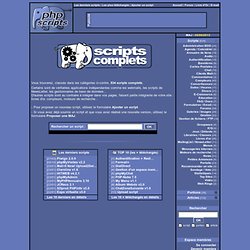 Certains sont de véritables applications indépendantes comme les webmails, les scripts de NewsLetter, les gestionnaires de base de données... D'autres scripts sont au contraire à intégrer dans vos pages, faisant partie intégrante de votre site : livres d'or, compteurs, moteurs de recherche... Pour proposer un nouveau script, utilisez le formulaire Ajouter un script. Si vous avez déjà soumis un script et que vous avez réalisé une nouvelle version, utilisez le formulaire Proposer une MAJ. Chaîne Webmaster - PHP/MySQL - Un moteur de recherche sur votre site.
---