Resources & Tools for Librarians
Information Literacy Weblog. Awesome Library. Highlighted publications. INTERNATIONAL COALITION OF LIBRARY CONSORTIA (ICOLC) | Collaborative Librarianship News. Excerpt: "A recent statement by the International Association of Scientific Technical and Medical Publishers (STM) advocates a set of new guidelines for document delivery ( While intellectual property laws vary from country to country, STM's approach would radically alter well-established library practices that advance knowledge, support scholarship, and are compliant with current copyright laws.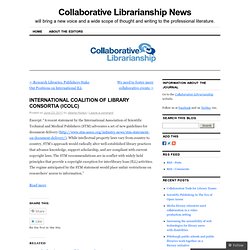 The STM recommendations are in conflict with widely held principles that provide a copyright exception for interlibrary loan (ILL) activities. The regime anticipated by the STM statement would place unfair restrictions on researchers' access to information." Read more. Libraries411.com Public Library Directory, Locator and Maps. Library of Congress Home. Graphic Novels: Suggestions for Librarians -- NCAC. Graphicnovels_1.pdf (application/pdf Object) Tutorials-The Library. UCB Library - Begin Research. Info To Go: Navigating the Internet > Home. IRRT Free Links. Libdex – Worldwide index of library catalogues, libraries & books. 9891. NSF grants provide funds based on merit, not on need.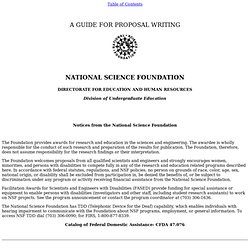 A good proposal begins with a clear idea of the goals and objectives of the project—for example, creating a course or curriculum, improving a laboratory by teaching new concepts directly, teaching new material to undergraduate faculty, or preparing future technicians or K-12 teachers in a more effective way. In addition, a good project begins with a sense of why it will be a significant improvement over current practice. Envision what improvements your project will make, and then ask yourself what activities and course(s) must be developed, what instruments will be needed, or what coalitions must be formed to make the desired improvements. N I N E S. ABLE. Welcome to Alternative Basic Library Education (ABLE) ~ a free, online learning platform that provides basic library knowledge and skills for library workers who have no formal education in library science.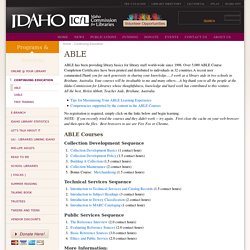 The ABLE program is not designed to replace university level training in library science and no college credit is offered. Anyone interested in improving their knowledge of library basics is welcome to take these courses. At the end of each course, once you successfully pass the final test, you will be prompted to print a Certificate of Completion. ABLE's History. Internet Library for Librarians.
---