Geology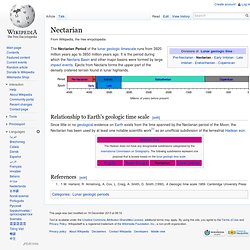 The Nectarian Period of the lunar geologic timescale runs from 3920 million years ago to 3850 million years ago. It is the period during which the Nectaris Basin and other major basins were formed by large impact events . Ejecta from Nectaris forms the upper part of the densely cratered terrain found in lunar highlands. Millions of years before present [ edit ] Relationship to Earth's geologic time scale Since little or no geological evidence on Earth exists from the time spanned by the Nectarian period of the Moon, the Nectarian has been used by at least one notable scientific work [ 1 ] as an unofficial subdivision of the terrestrial Hadean eon .
Nectarian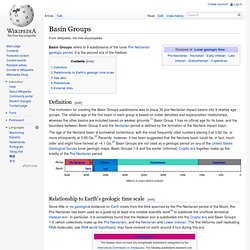 Basin Groups refers to 9 subdivisions of the lunar Pre-Nectarian geologic period . It is the second era of the Hadean [ edit ] Definition The motivation for creating the Basin Groups subdivisions was to place 30 pre-Nectarian impact basins into 9 relative age groups. The relative age of the first basin in each group is based on crater densities and superposition relationships, whereas the other basins are included based on weaker grounds. [ 1 ] Basin Group 1 has no official age for its base, and the boundary between Basin Group 9 and the Nectarian period is defined by the formation of the Nectaris impact basin.
Basin Groups
Timeline of the Precambrian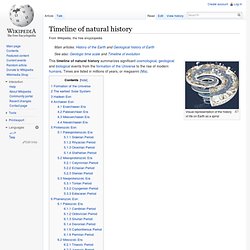 This timeline of natural history summarizes significant cosmological , geological and biological events from the formation of the Universe to the rise of modern humans . [ edit ] Formation of the Universe 13,700 million years ago, or megaanna ( Ma ): estimated age of the universe according to the Big Bang theory 13,600-13,500 Ma: First stars begin to shine 13,200 Ma: age of the oldest known star in the galaxy, HE 1523-0901 . 13,100 Ma: Galaxies form 12,700 Ma: age of the quasar CFHQS 1641+3755 9,000 Ma: Earliest Population I , or Sunlike stars. [ edit ] The earliest Solar System In the earliest solar system history, the sun, the planetesimals and the jovian planets were formed. The inner solar system aggregated more slowly than the outer, so the terrestrial planets were not yet formed, including Earth and Moon .