Mood stabilizer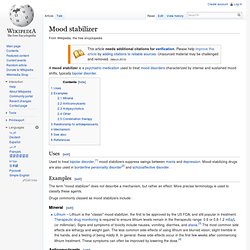 Mood stabilizer
A mood stabilizer is a psychiatric medication used to treat mood disorders characterized by intense and sustained mood shifts, typically bipolar disorder . [ edit ] Uses Used to treat bipolar disorder , [ 1 ] mood stabilizers suppress swings between mania and depression . Mood-stabilizing drugs are also used in borderline personality disorder [ 2 ] and Schizoaffective disorder . [ edit ] Examples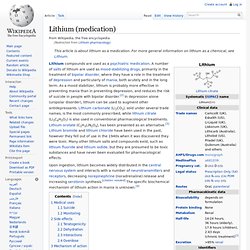 Lithium (medication)
Lithium carbonate , in ionic or salt form, is commonly used as a psychiatric medication . A number of chemical salts of lithium are used medically as mood-stabilizing drugs , primarily in the treatment of bipolar disorder , where they have a role in the treatment of depression and particularly of mania , both acutely and in the long term. As a mood stabilizer, lithium is probably more effective in preventing mania than depression, and reduces the risk of suicide in bipolar patients. [ 1 ] In depression alone (unipolar disorder), lithium can be used to augment other antidepressants. Lithium carbonate (Li 2 CO 3 ), sold under several trade names, is the most commonly prescribed, while lithium citrate (Li 3 C 6 H 5 O 7 ) is also used in conventional pharmacological treatments.
Anticonvulsant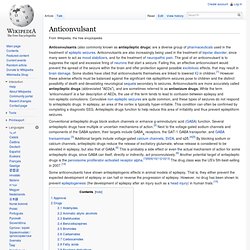 The anticonvulsants (also commonly known as antiepileptic drugs ) are a diverse group of pharmaceuticals used in the treatment of epileptic seizures . Anticonvulsants are also increasingly being used in the treatment of bipolar disorder , since many seem to act as mood stabilizers , and for the treatment of neuropathic pain . The goal of an anticonvulsant is to suppress the rapid and excessive firing of neurons that start a seizure.
Oxcarbazepine
Oxcarbazepine (ox-kar-BAZ-ih-peen) is an anticonvulsant and mood stabilizing drug , used primarily in the treatment of epilepsy . It is also used to treat anxiety and mood disorders, and benign motor tics . Oxcarbazepine is marketed as Trileptal by Novartis and available in some countries as a generic drug . [ edit ] Uses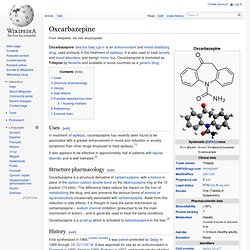 Carbamazepine ( CBZ ) (Tegretol, Equetro) is an anticonvulsant and mood-stabilizing drug used primarily in the treatment of epilepsy and bipolar disorder , as well as trigeminal neuralgia . It is also used off-label for a variety of indications, including attention-deficit hyperactivity disorder (ADHD), schizophrenia , phantom limb syndrome, complex regional pain syndrome , paroxysmal extreme pain disorder , neuromyotonia , intermittent explosive disorder , borderline personality disorder , Myotonia congenita and post-traumatic stress disorder . Like other anticonvulsants , intrauterine exposure is associated with spina bifida [ 1 ] and neurodevelopmental problems. [ 2 ] [ edit ] Medical uses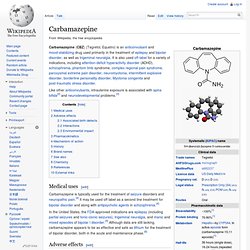 Carbamazepine
Lamotrigine
Lamotrigine , marketed in the US and most of Europe as Lamictal ( pron.: / l ə ˈ m ɪ k t əl / ) by GlaxoSmithKline , is an anticonvulsant drug used in the treatment of epilepsy and bipolar disorder . It is also used off-label as an adjunct in treating depression . [ 1 ] For epilepsy, it is used to treat focal seizures , primary and secondary tonic-clonic seizures , and seizures associated with Lennox-Gastaut syndrome . Like many other anticonvulsant medications, Lamotrigine also seems to act as an effective mood stabilizer , and has been the first U.S. Food and Drug Administration (FDA)-approved drug for this purpose since lithium , a drug approved almost 30 years earlier. It is approved for the maintenance treatment of bipolar type I . Chemically unrelated to other anticonvulsants (due to lamotrigine's being a phenyltriazine ), lamotrigine has many possible side-effects.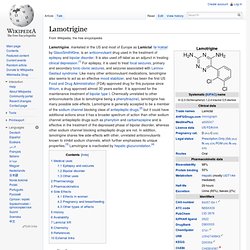 Sodium valproate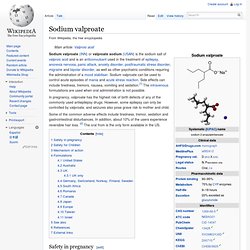 Sodium valproate ( INN ) or valproate sodium ( USAN ) is the sodium salt of valproic acid and is an anticonvulsant used in the treatment of epilepsy , anorexia nervosa , panic attack , anxiety disorder , posttraumatic stress disorder , migraine and bipolar disorder , as well as other psychiatric conditions requiring the administration of a mood stabilizer . Sodium valproate can be used to control acute episodes of mania and acute stress reaction . Side effects can include tiredness, tremors, nausea, vomiting and sedation. [ 1 ] The intravenous formulations are used when oral administration is not possible. In pregnancy, valproate has the highest risk of birth defects of any of the commonly used antiepilepsy drugs.
Valproate semisodium ( INN ) or divalproex sodium ( USAN ) consists of a compound of sodium valproate and valproic acid in a 1:1 molar relationship in an enteric coated form. It is used in the United Kingdom, Canada, and United States for the treatment of the manic episodes of bipolar disorder . In rare cases, it is also used as a treatment for major depressive disorder , and increasingly taken long-term for prevention of both manic and depressive phases of bipolar disorder, especially the rapid-cycling variant. It is also used in the US for the treatment of epilepsy , certain side effects of autism , chronic pain associated with neuropathy , and migraine headaches . Its chemical name is sodium hydrogen bis(2-propylpentanoate).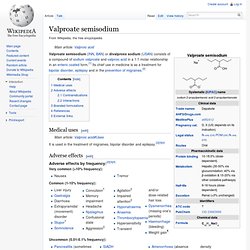 Valproate semisodium
Valproic acid ( VPA ), an acidic chemical compound , has found clinical use as an anticonvulsant and mood-stabilizing drug , primarily in the treatment of epilepsy , bipolar disorder , and, less commonly, major depression . It is also used to treat migraine headaches and schizophrenia . VPA is a liquid at room temperature, but it can be reacted with a base such as sodium hydroxide to form the salt sodium valproate , which is a solid. The acid, salt, or a mixture of the two ( valproate semisodium ) are marketed under the various brand names Depakote, Depakote ER, Depakene, Depakene Crono (extended release in Spain), Depacon, Depakine, Valparin and Stavzor. Approved uses of the various formulations vary by country; e.g., valproate semisodium is used as a mood stabilizer and also in the US as an anticonvulsant. VPA is a histone deacetylase inhibitor and is under investigation for treatment of HIV and various cancers. [ 1 ]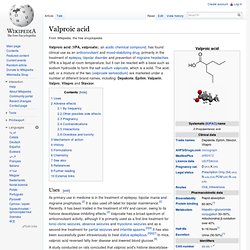 Valproic acid