Hallucinogen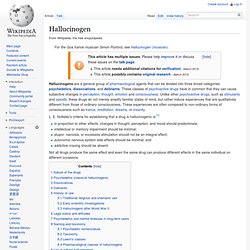 Hallucinogen
Hallucinogens are a general group of pharmacological agents that can be divided into three broad categories: psychedelics , dissociatives , and deliriants . These classes of psychoactive drugs have in common that they can cause subjective changes in perception , thought , emotion and consciousness .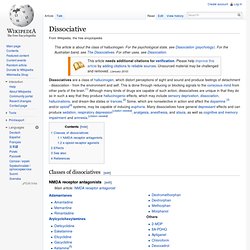 Dissociatives are a class of hallucinogen , which distort perceptions of sight and sound and produce feelings of detachment - dissociation - from the environment and self.
Dissociative
Opioid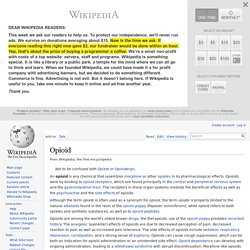 An opioid is a psychoactive chemical that works by binding to opioid receptors , which are found principally in the central and peripheral nervous system and the gastrointestinal tract .
Salvinorin A is the main active psychotropic molecule in Salvia divinorum , a Mexican plant which has a long history of use as an entheogen by indigenous Mazatec shamans.
Salvinorin A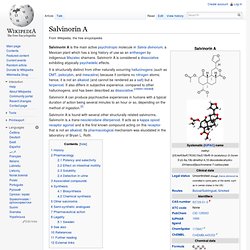 Ibotenic acid
Ibotenic acid is a chemical compound that is naturally occurring in the mushrooms Amanita muscaria and Amanita pantherina , among others. Ibotenic acid is a powerful neurotoxin that is used as a "brain- lesioning agent" [ 1 ] [ 2 ] and has shown to be highly neurotoxic when injected directly into the brains of mice and rats. [ 3 ] [ edit ] Psychopharmacology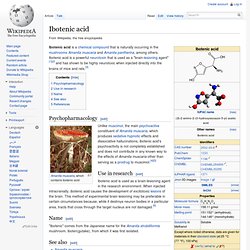 Ketamine , one of the most common NMDA receptor antagonists. NMDA receptor antagonists are a class of anesthetics that work to antagonize , or inhibit the action of, the N-methyl d-aspartate receptor ( NMDAR ).
NMDA receptor antagonist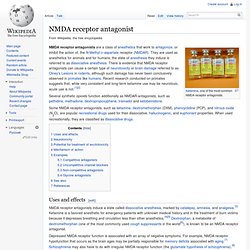 Morphinan
Levomethorphan
Dimemorfan
Dextrorphan
Dextrorphan ( DXO ) is a psychoactive drug of the morphinan chemical class which acts as an antitussive or cough suppressant and dissociative hallucinogen .
Methorphan
Dextrorphan
Dextromethorphan
Dextromethorphan ( DXM or DM ) is an antitussive (cough suppressant) drug .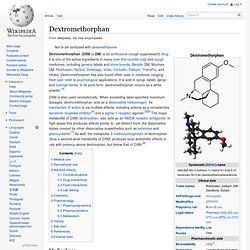 2-MDP
8A-PDHQ
Aptiganel ( Cerestat ; CNS-1102 ) is a drug which acts as a noncompetitive NMDA antagonist . [ 1 ] It has neuroprotective effects and was researched for potential use in the treatment of stroke , [ 2 ] but despite positive results in animal studies, [ 3 ] human trials showed limited efficacy, [ 4 ] as well as undesirable side effects such as sedation and hallucinations , [ 5 ] [ 6 ] and clinical development was ultimately not continued. [ 7 ] [ edit ] Synthesis
Aptiganel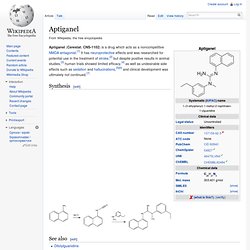 Etoxadrol (CL-1848C) is a dissociative anaesthetic drug that has been found to be an NMDA antagonist and produce similar effects to PCP in animals. [ 1 ] [ 2 ] Etoxadrol, along with another related drug dexoxadrol , were developed as analgesics for use in humans, but development was discontinued in the late '70s after patients reported side effects such as nightmares and hallucinations . [ 3 ] [ 4 ] [ 5 ] [ edit ] Chemical Structure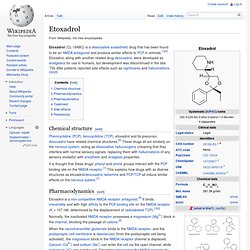 Etoxadrol
Arylcyclohexylamine
Arylcyclohexylamines , also known as arylcyclohexamines or arylcyclohexanamines , are a chemical class of pharmaceutical , designer , and experimental drugs .
4-MeO-PCP
4-Methoxyphencyclidine ( methoxydine , 4-MeO-PCP ) is a dissociative anesthetic drug with hallucinogenic and sedative effects.
Tiletamine is a dissociative anesthetic and pharmacologically classified as an NMDA receptor antagonist . [ 1 ] It is related chemically and pharmacologically to other anesthetics in this family such as ketamine and phencyclidine . Tiletamine hydrochloride exists as odourless white crystals.
Tiletamine
Tenocyclidine
Tenocyclidine ( TCP ) is a dissociative anesthetic drug with stimulant and hallucinogenic effects. It is similar in effects to phencyclidine (PCP) but is considerably more potent.
Rolicyclidine
Phencyclidine
Phencyclidine (a complex clip of the chemical name 1-(1-phenylcyclohexyl)piperidine ), commonly initialized as PCP and known colloquially as angel dust , KJ (kristal joint), illy , or wet , is a recreational dissociative drug .
Neramexane
Methoxetamine
Ketamine
Gacyclidine
Eticyclidine
Dieticyclidine
Esketamine
Nitrous oxide
Dexoxadrol
Dizocilpine
Adamantane
Rimantadine
Memantine
Amantadine
Dimemorfan
Noscapine
Psychedelic drug
Ergoline
Tryptamine
Dipropyltryptamine
Psilocin
O-Acetylpsilocin
Bufotenin
alpha-Methyltryptamine
5-MeO-DMT
Diisopropyltryptamine
5-MeO-AMT
Phenethylamine
2C-B-FLY
Mescaline
2C-D
2C-C
2C-T-2
2C-T-7
2C-T-4
2C-B
2C-E
2C-T-21
2,5-Dimethoxy-4-methylamphetamine
2C-I
2C-T-4
2,5-Dimethoxy-4-bromoamphetamine
Trimethoxyamphetamine
para-Methoxymethamphetamine
para-Methoxyamphetamine
Deliriant
Tropane alkaloid
Scopolamine
Hyoscyamine
Atropine
Glycolic acid
Benactyzine
Dicycloverine
N-Ethyl-3-piperidyl benzilate
N-Methyl-3-piperidyl benzilate
3-Quinuclidinyl benzilate
Ditran
EA-3167
Dimenhydrinate
Diphenhydramine
Doxylamine