Wifi
Become Really Paranoid By Monitoring Your Network's Comings & Goings With WallWatcher & DD-WRT. Requirements MSVBM50.exe available from Microsoft.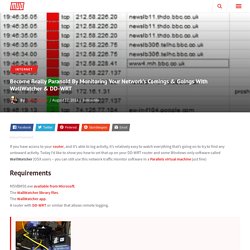 The WallWatcher library files. The WallWatcher app. A router with DD-WRT or similar that allows remote logging. How To Crack Your Own WEP Network To Find Out Just How Insecure It Really Is. Disclaimer: This is for educational purposes only to show you why you should seriously upgrade your router or change your wireless security.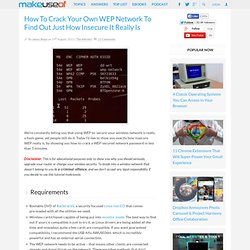 To break into a wireless network that doesn't belong to you is a criminal offence, and we don't accept any legal responsibility if you decide to use this tutorial maliciously. Requirements Bootable DVD of Backtrack5, a security focused Linux live-CD that comes pre-loaded with all the utilities we need.Wireless card/chipset capable of being put into monitor mode.
The best way to find out if yours is compatible is just to try it, as Linux drivers are being added all the time and nowadays quite a few cards are compatible. If you want guaranteed compatibility, I recommend the USB Alfa AWUS036H, which is incredibly powerful and has an external aerial connection.The WEP network needs to be active – that means other clients are connected already and doing things on the network. Upside-Down-Ternet. My neighbours are stealing my wireless internet access.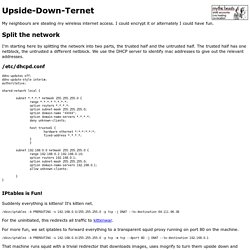 I could encrypt it or alternately I could have fun. I'm starting here by splitting the network into two parts, the trusted half and the untrusted half. The trusted half has one netblock, the untrusted a different netblock. We use the DHCP server to identify mac addresses to give out the relevant addresses. /etc/dhcpd.conf. Dirty Rotten Thieves Stealing Your Wifi? Find Out What They're Looking At With These 3 Apps. In this tutorial today, I'll be demonstrating some low-level but terrifying utilities you can run on your compromised network.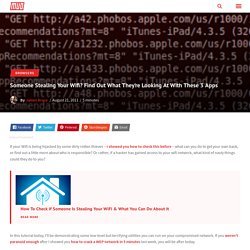 If you weren't paranoid enough after I showed you how to crack a WEP network in 5 minutes last week, you will be after today. Prerequisites These apps will only work on a wifi network that is either open or has compromised WEP security for which you have the passphrase.Backtrack5 Security Linux Live-CD: if you're unfamiliar with the boot process and how to get into a GUI, read last week's tutorial on how to hack your WEP network.A wireless card that supports monitor mode (where it captures all the packets on the network).
---