Production
Communities. Jas's-- Middle Eastern Rhythms FAQ (for dumbec, doumbec, doumbek, arabic tabla, darabuka, tombak, zarb ...) : Rhythms for Dumbek and Belly Dance. Secrets Of The Mix Engineers: Young Guru. People + Opinion : Artists / Engineers / Producers / Programmers Behind every rap megastar, there's a very talented engineer.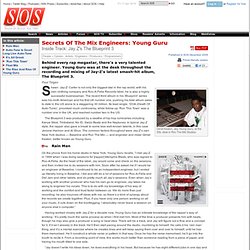 Young Guru was at the desk throughout the recording and mixing of Jay-Z's latest smash-hit album, The Blueprint 3.
Tools. The Pro Audio Files | Recording, Mixing & Production Blog.
---