Political
Senator Schumer proposes "do not ride" list for Amtrak. Sherrod Brown isn't toning it down - David Catanese and Manu Raju. Sherrod Brown is Ohio's last statewide Democrat standing after a Republican tide washed over the state in November.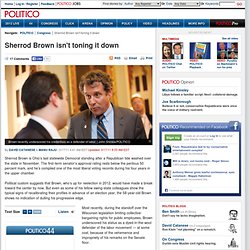 The first-term senator's approval rating rests below the perilous 50 percent mark, and he's compiled one of the most liberal voting records during his four years in the upper chamber. Political custom suggests that Brown, who's up for reelection in 2012, would have made a break toward the center by now. Chatting With Bradley Manning: The Parts Left Out of the 'Frontline' Segment. Share The PBS Frontline segment on Pvt.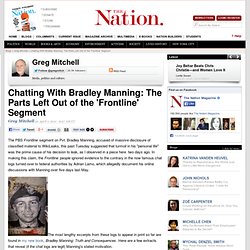 Bradley Manning, accused of massive disclosure of classified material to WikiLeaks, this past Tuesday suggested that turmoil in his "personal life" was the prime cause of his decision to leak, as I observed in a piece here two days ago. In making this claim, the Frontline people ignored evidence to the contrary in the now famous chat logs turned over to federal authorities by Adrian Lamo, which allegedly document his online discussions with Manning over five days last May. The most lengthy excerpts from these logs to appear in print so far are found in my new book, Bradley Manning: Truth and Consequences.
U.S. News. Alex Jones. Anonymous and their peaceful American Revolution, their plan to break the banks. | Unite And State. Everything Anonymous.
---