Architectural Registration
The ARE Blog. Thursday, 22 September 2011 12:14 The NCARB practice problem for this vignette requires "recessed accent light fixtures" along the west wall of the Architect's Office.
NCARB also provides a Lighting Diagram which is to be used to determine the number of fixtures and their spacing. A strict reading of the Lighting Diagram suggests that three fixtures are to be located 2' from the wall and spaced 4' on center (left image). However, the NCARB Building Systems Exam Guide sample passing solution shows four accent fixtures.
Architect Registration Exam Study Materials for ARE 4.0 That Work. ARE Forum - www.areforum.org - Architecture Forum. Academics.triton.edu/faculty/fheitzman/ARE/Beardsley_hand-outs.pdf. ARE Exam Study Guide Reviews ARE Test Practice Tips. Includes Practice Test Questions How to Pass the Architect Registration Examination (ARE), using our easy step-by-step ARE Test study guide, without weeks and months of endless studying...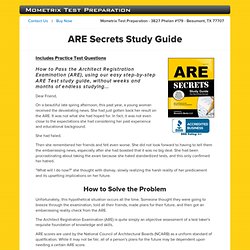 Dear Friend, On a beautiful late spring afternoon, this past year, a young woman received the devastating news. NCARB - NCARB Homepage.
---