Music Sites
Very Short List. The Dummy Guide To Cold Wave | Dummy » Features. Bayside Branch > Home. Latest Songs From MP3 & Music Blogs / The Hype Machine. Core Sound — Comparison of Portable Digital Audio Recorders. (Last updated 06/08/2007) Under Construction Introduction The latest models of handheld and portable two-channel audio recorders use removable solid state memory (e.g., Compact Flash, Secure Digital), hard disk cards (PCMCIA/PC Card, Microdrive) and internal hard drives for storage instead of tape (e.g., DAT) or rotating optical disks (e.g., MiniDisc, CD-R, DVD-R).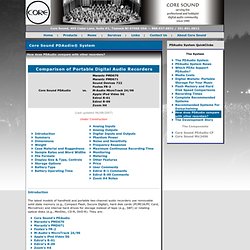 They are: All of these recorders are starting to get popular for concert and general high-resolution audio field recording.
Ricci Adams' Musictheory.net. Odd Sounds - Resources for experimental, electronic, avant-garde, unusual, off-beat and funny music and sound. Resources for Experimental, Electronic, Avant-Garde, Off-Beat, Unusual & Funny Music and Sound on the Internet History, Information, Interviews, Etc.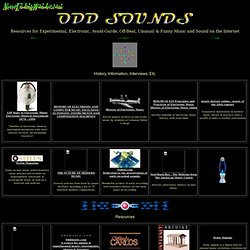 Resources Artist Websites, Internet Record Labels, Music Websites It's not our goal to list every single music website on the internet, or even every indie website there is, but to provide a listing of websites that have significant information or content about experimental, electronic, avant-garde, unusual, off-beat & funny music and audio. If you know of a site that should be listed, then please contact us. Vince Clarke Music - Video. The Analogue Monologues is a new series of mini video documentaries.
In each webisode Vince talks about one his analogue synths and explains where the on/off switch is. This series proves, once and for all, that he really doesn't know much about anything (a must see!). Opinion - Measure for Measure Blog. I recently played a show where I did something I hadn't done in years: I performed songs by the band I founded, sang for and became quasi-famous in — Soul Coughing, I put together Soul Coughing in the older, dirtier East Village, in 1992.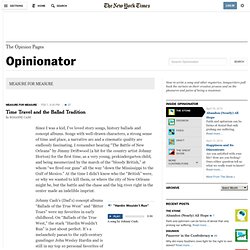 We eventually recorded three albums for Warner Bros., and a few of our songs made it onto MTV. Behind that success, though, the band was a dark marriage that, among other things, solidified my enthusiasm for drugs. To multiply my unhappiness, I signed away — to my older bandmates — the rights to the music I'd written. Mobile17 | Make your own Ringtones! A Ringtone Maker.
Music Video
Music Streaming. Music Review & News. Electronic Music Technique Resources. The original website of strange and wonderful album covers | Bizarre Records. Urs Heckmann. Modulate This! - A Blog for Electronic Music Artists: U-He Zebra 2.5. I'm just now getting around to experimenting with some of the new features in Zebra 2.5 which was released in December.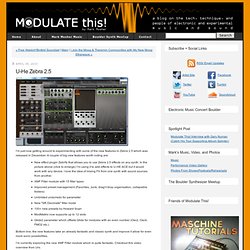 A couple of big new features worth noting are: New effect plugin Zebrify that allows you to use Zebra 2.5 effects on any synth. In the picture above (click to enlarge) I'm using it to add effects to U-HE ACE but it would work with any device. I love the idea of mixing FX from one synth with sound sources from another. Synth Britannia on You Tube. Ableton Live Home. Blip Drums Electronic Drum Samples.
---