Games
XBox 360. Wii. The Sims 3. Arcade. Pacifi3D - The Pacman emulator in 3D. About Pacifi3d is a proof-of-concept pacman emulator that replaces the original pacman sprites and tiles with OpenGL 3D graphics.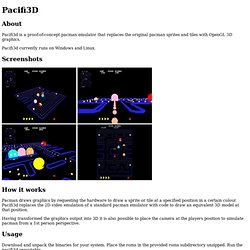 Pacifi3d currently runs on Windows and Linux. Anime. Official Websites. Soul Calibur 4. Virtua Fighter 5. Lost Plennet. Battlefield bad company. Games. Neon Rider. Robot Unicorn Attack. AdultSwim.com is your official Adult Swim site for free original online games like Amateur Surgeon, Five Minutes to Kill Yourself, My Lil Bastard, Meowcenaries, Vending Machine Champ and HRmageddon.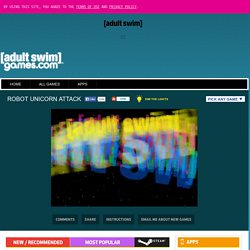 We also have a few online games based on some of our shows, like Inuyasha Demon Tournament, Venture Bros. Flight of the Monarch, Squidbillies Floor It and Aqua Teen Hunger Force's Worst Game Ever. But we're mainly doing original online games these days. So, if you like online puzzle games, online fighting games, online twitchy games, online strategy games and even some first person shooters, we're the place to visit.
Online Games. Pacman. Donkey Kong. Space Invaders. Classic games online. Online Games. Angry Birds. iPhone Game Reviews and iPad Game Reviews at Slide To Play - Featuring Apple iPhone, iPad, and iTouch Videos, Cheats, News, and Price Drops. Touch Arcade: iPhone Game Reviews and News. All things iPod, iPhone, iPad and Beyond.
---