Games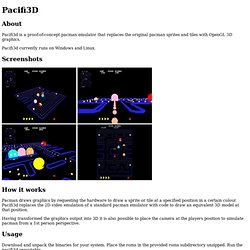 Pacifi3D - The Pacman emulator in 3D
About Pacifi3d is a proof-of-concept pacman emulator that replaces the original pacman sprites and tiles with OpenGL 3D graphics. Pacifi3d currently runs on Windows and Linux.
Neon Rider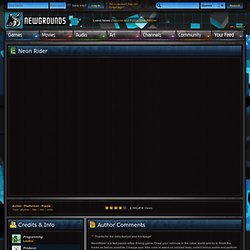 ** Thanks for the daily feature and frontpage! NeonRider is a fast paced reflex driving game. Drive your vehicule in the cyber world and try to finish the tracks as fast as possible.
Robot Unicorn Attack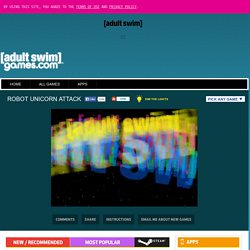 AdultSwim.com is your official Adult Swim site for free original online games like Amateur Surgeon, Five Minutes to Kill Yourself, My Lil Bastard, Meowcenaries, Vending Machine Champ and HRmageddon. We also have a few online games based on some of our shows, like Inuyasha Demon Tournament, Venture Bros. Flight of the Monarch, Squidbillies Floor It and Aqua Teen Hunger Force's Worst Game Ever. But we're mainly doing original online games these days. So, if you like online puzzle games, online fighting games, online twitchy games, online strategy games and even some first person shooters, we're the place to visit.
Pacman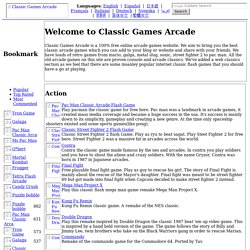 Classic Games Arcade is a 100% free online arcade games website. We aim to bring you the best classic arcade games which you can add to your blog or website and share with your friends. We have loads of retro games from mario, galga, metal slug, sonic, street fighter 2 to pac man. All the old arcade games on this site are proven console and arcade classics. We've added a web classics section as we feel that there are some insanley popular internet classic flash games that you should have a go at playing.
Donkey Kong
Space Invaders
If you're a fan of the Sly Cooper games, this will interest you: Sony has just released Benley's Hackpack for iPad. The game, which originally came out last year for PlayStation 3 and PS Vita, contains three hacking mini-games from Sly's latest title: Thieves in Time. You can download the iPad game here for free. Read More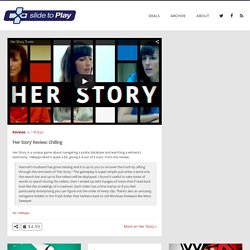 iPhone Game Reviews and iPad Game Reviews at Slide To Play - Featuring Apple iPhone, iPad, and iTouch Videos, Cheats, News, and Price Drops
Arena battle games have really come into their own in recent years. Mobile platforms in particular have enjoyed a great crop, including Super Crate Box [$1.99], Muffin Knight [$0.99], Spell Sword [$0.99], and many others. It's a great way for a small developer to make a great action game without busting the bank, while providing a nice bite-sized bit of fun that suits mobiles well. Of course, for the gamer looking for something more than just a slice of game now and then, the better examples in this sub-genre have included some sort of progression system that persists beyond individual plays. Typically, this is done by putting in some sort of collectible or experience system that will unlock new weapons or abilities, which not only gives you something to shoot for over the long term, but also refreshes the game experience over time to keep it from getting dull...
Touch Arcade: iPhone Game Reviews and News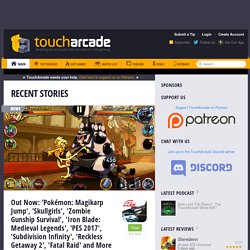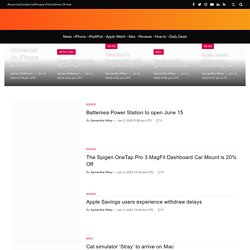 Adobe reportedly bringing Lightroom to iPad Adobe will apparently be bringing its Lightroom photo editing and management suite to iPad, 9to5Mac reports. Lightroom for Mobile was briefly featured on Adobe's website before getting pulled, and an Adobe chat representative confirmed the program is built for iPad. It appears that apart from the Lightroom iPad app, a $99 annual subscription will let users sync Lightroom photos in the cloud. An exact release date for Lightroom on iPad is unknown at this point. "Yes.
All things iPod, iPhone, iPad and Beyond