Learning
Trinity Tie Knot - How to Tie a Trinity Necktie Knot
Entertainment Meet David Peterson, who developed Dothraki for Game of Thrones There are seven different words in Dothraki for striking another person with a sword. Among them: "hlizifikh," a wild but powerful strike; "hrakkarikh,"a quick and accurate strike; and "gezrikh," a fake-out or decoy strike. But you won't find these words in George R.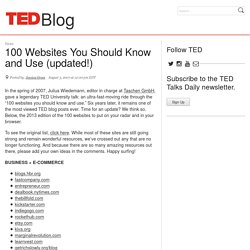 The Seven Habits of Highly Effective People , first published in 1989, is a business and self-help book written by Stephen R. Covey . It has sold more than 25 million copies in 38 languages worldwide, and the audio version has sold 15 million copies, and remains one of the best selling nonfiction business books. [ 1 ] [ 2 ] Covey presents an approach to being effective in attaining goals by aligning oneself to what he calls "true north" principles of a character ethic that he presents as universal and timeless. [ 3 ] In August 2011, Time listed Seven Habits as one of "The 25 Most Influential Business Management Books". [ 4 ] U.S. President Bill Clinton read the book and invited Covey to Camp David to counsel him on how to integrate the book into his presidency. [ 5 ]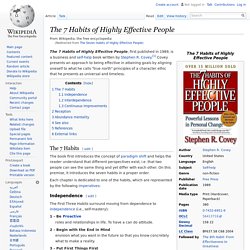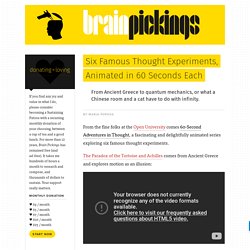 by Maria Popova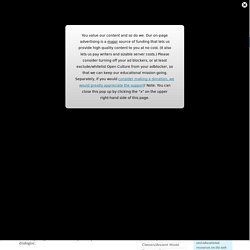 Below, we have gathered together some of the most intelligent video collections on YouTube. A great place to find culturally enriching video… General @GoogleTalks Google has lots of famous visitors speaking at its headquarters, and they're all recorded and neatly presented here.
by Maria Popova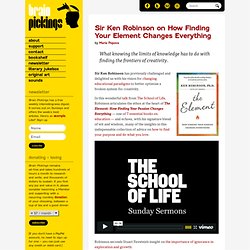 Sir Ken Robinson on How Finding Your Passion Changes Everything
Infographics / How to Use Google Search More Effectively
Språktjenester - Startsiden.no
Programming isn't just a niche specialization anymore, rather a necessity for tech-professionals regardless of the industry in which they work.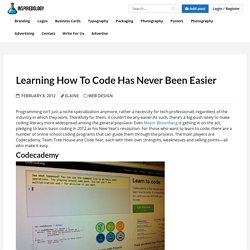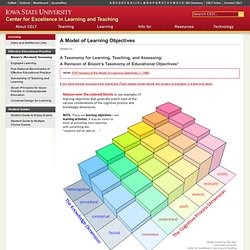 A statement of a learning objective contains a verb (an action) and an object (usually a noun). The verb generally refers to [actions associated with] the intended cognitive process . The object generally describes the knowledge students are expected to acquire or construct. (Anderson and Krathwohl, 2001, pp. 4–5) The cognitive process dimension represents a continuum of increasing cognitive complexity — from remember to create. Anderson and Krathwohl identify 19 specific cognitive processes that further clarify the bounds of the six categories (Table 1).
Posters / Get more out of Google
Urban Studies and Planning | 11.129 Educational Theory and Practice I, Fall 2006 | Readings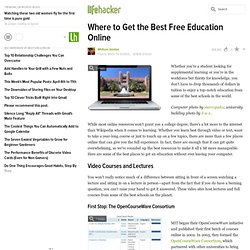 Whether you're a student looking for supplemental learning or you're in the workforce but thirsty for knowledge, you don't have to drop thousands of dollars in tuition to enjoy a top-notch education from some of the best schools in the world. Computer photo by marcopako ; university building photo by J-a-x . While most online resources won't grant you a college degree, there's a lot more to the internet than Wikipedia when it comes to learning. Whether you learn best through video or text, want to take a year-long course or just to touch up on a few topics, there are more than a few places online that can give you the full experience. In fact, there are enough that it can get quite overwhelming, so we've rounded up the best resources to make it all a bit more manageable. Here are some of the best places to get an education without ever leaving your computer.
Born to Learn ~ Running too Fast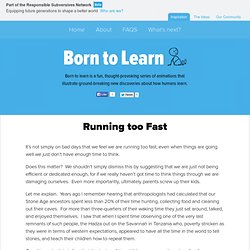 It's not simply on bad days that we feel we are running too fast; even when things are going well we just don't have enough time to think.
After a little research on Instructables.com, I didn't find an instructable which show you how to grow big and beautiful crystals. So I think that this instructable is a good idea. Growing crystals is more than only a instructable, it is for me a passion, so a little piece of my soul was caught in t...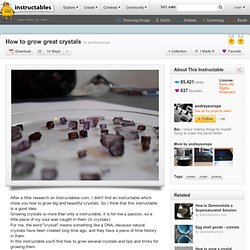 How to grow great crystals