Art and Inspiration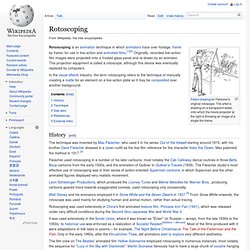 Rotoscoping
Patent drawing for Fleischer's original rotoscope. The artist is drawing on a transparent easel, onto which the movie projector at the right is throwing an image of a single film frame.
There's nothing like a manifesto that gets the blood pumping, the ideas flowing and a person moving.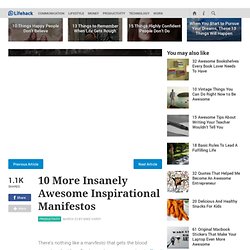 10 More Insanely Awesome Inspirational Manifestos
Vieux Cuir on Photography Served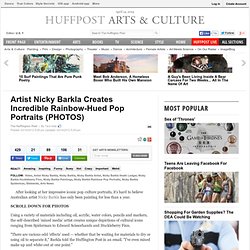 After looking at her impressive iconic pop culture portraits, it's hard to believe Australian artist Nicky Barkla has only been painting for less than a year. Using a variety of materials including oil, acrylic, water colors, pencils and markers, the self-described 'mixed media' artist creates unique depictions of cultural icons ranging from Spiderman to Edward Scissorhands and Huckleberry Finn.
Artist Nicky Barkla Creates Incredible Rainbow-Hued Pop Portraits (PHOTOS)
THE SLOTH SABBATH
CARL SAGAN: Make the most of this life
(click images for detail) For the better part of three decades multidisciplinary artist Guy Laramee has worked as a stage writer, director, composer, a fabricator of musical instruments, a singer, sculptor, painter and writer. Among his sculptural works are two incredible series of carved book landscapes and structures entitled Biblios and The Great Wall, where the dense pages of old books are excavated to reveal serene mountains, plateaus, and ancient structures.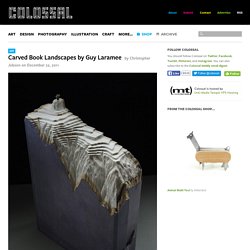 Carved Book Landscapes by Guy Laramee
BEN KLING
Cartoon Character Skeletons
Page not found | MoCCA
News / Kris Kuksi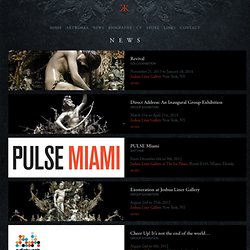 Chaos and ruin.
Daily Inspiration and Motivation
Incredibly Colorful Macro Soap Photography
Play the Rings of a Tree Trunk Like a Record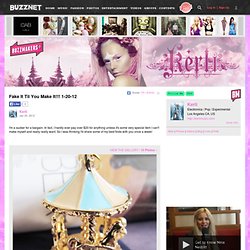 Mirror Mirror 1-20-12 photo - Buzznet
I cry a lot. Equally because of happiness and sadness. I have at least 5 different personalities. Crowds make me anxious unless I'm on stage. I hear colors, I see sound I believe in fairies. I change my mind in every five minutes.
translate beatbox
Retronaut
Wild Wyoming, A Summer of Sunsets & Dark Skies on Vimeo
Ed. Note: This article was originally published Nov. 2, 2011. Photographer Jon Crispin has a fascination with things that are left behind. Those are his exact words. "Even as a kid I was trying to get into places I shouldn't go," he says on the phone. In the '80s he was basically given free rein to document abandoned asylums in New York state.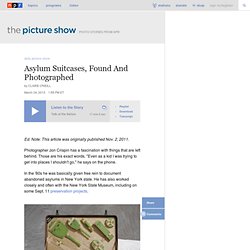 Asylum Suitcases, Found And Photographed : The Picture Show
The Sketchbook Project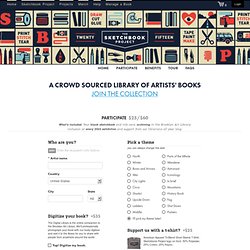 2012 Tour Locations Dates and locations added as venues are confirmed Brooklyn, NY April 14th-30th Brooklyn Art Library 103A N. 3rd St Brooklyn, NY 11249 Chicago, ILMay 3rd-5th Hyde Park Art Center 5020 S. Cornell Avenue Chicago, IL 60615 Portland, ORMay 11th-13th The Cleaners at the Ace Hotel 1022 SW Stark St Portland, OR Vancouver, CanadaMay 15th-16th W2 Media Cafe 111 W Hastings St.
The Sketchbook Project creates a space to share your process with the world. With new features, new books and a custom-desgined library cataloging system, the 2012 Project is ready for a world tour – all we need is your work. Your book is unique.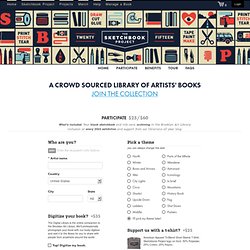 The Sketchbook Project
Inspirational: A Message To Humanity (One Of The Greatest Speeches Ever Made)
Bizarre fish in Kelp Seas - Blue Planet - BBC Earth
Psychedelic Three-Dimensional Paper Sculptures
Tame Impala - Alter Ego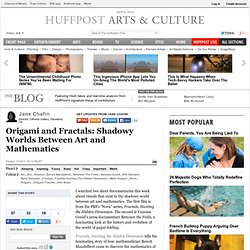 Jane Chafin: Origami and Fractals: Shadowy Worlds Between Art and Mathematics
I watched two short documentaries this week about visuals that exist in the shadowy world between art and mathematics. The first film is from the PBS's "Nova" series, Fractals, Hunting the Hidden Dimension.
Rubin Museum of Art:Dream-Over
A Sleep-over for Grown-ups
TEMPEST FREERUNNING ACADEMY - GYM VIDEO
Geek Tattoos
The mind is not contained to the cranium. It's province is of the infinite imaginative spirit