Social enterprise
Commission for Youth Social Enterprise. Stakeholder Engagement Consultants Group News. TSELF - sources of help. 51684_EN.pdf (application/pdf Object) Edmonton SEF Presentation - BALTA 2009 Symposium.pdf (application/pdf Object) 2007CSS002 Att-1.pdf (application/pdf Object) Blended Value. SOCIAL ENTREPRENEURSHIP Teaching Resources Handbook - PDFCast.org. SOCIAL ENTREPRENEURSHIP Teaching Resources HandbookFor Faculty Engaged in Teaching and Research in Social EntrepreneurshipDebbi D.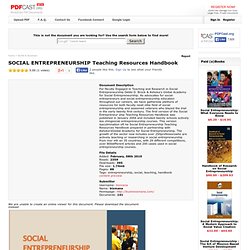 Brock& Ashoka's Global Academy for Social EntrepreneurshipJanuary 2008A S H O K A 2WelcomeAs advocates for social entrepreneurs and social entrepreneurship educationthroughout our careers, we have gathered a plethora of resources for bothfaculty new to the field of social entrepreneurship and seasoned veterans whoblazed the trail in the early twenty first century. The first version of the SocialEntrepreneurship Teaching Resources Handbook was published in January2004 and included twenty schools actively teaching social entrepreneurshipcourses.
This version is a culmination of the Social EntrepreneurshipTeaching Resources Handbook prepared in partnership with Ashoka's GlobalAcademy for Social Entrepreneurship. Social enterprise: opportunities and challenges. Strategy making in social enterprise: the role of resource allocation and its effects on organizational sustainability - page 2 | Systems Research and Behavioral Science. Business Planning for Social Impact.pdf (application/pdf Object) Guidetofinance_june05_eng.pdf (application/pdf Object) Edmonton_Social_Enterprise_Fund.pdf (application/pdf Object) Social Ventures in Waterloo Region_final report.pdf (application/pdf Object) Social CRM ideas by Mark Tamis. Social Entrepreneurship. Accelerating Social Innovation. The Fundamental Flaws in How We Finance the Nonprofit Sector By Nell Edgington Today the Nonprofit Finance Fund (NFF) released the results of their sixth annual State of the Nonprofit Sector survey and the data underlines a growing crisis in the financial sustainability of our nonprofit sector. 56% of nonprofit leader respondents reported that they were unable to meet demand for their services in 2013, this is the highest rate since the survey's inception six years ago.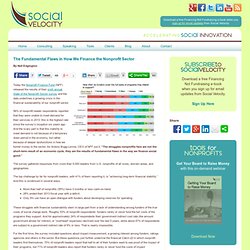 And the scary part is that this inability to meet demand is not because of a temporary down period in the economy, but rather because of deeper dysfunctions in how we funnel money to the sector. As Antony Bugg-Levine, CEO of NFF put it, "The struggles nonprofits face are not the short-term result of an economic cycle, they are the results of fundamental flaws in the way we finance social good." Social Venture Network: Transforming the Way the World Does Business. Downloading: SOCIAL ENTREPRENEURSHIP Teaching Resources Handbook.
---