Social enterprise
Commission for Youth Social Enterprise
Deprecated: Assigning the return value of new by reference is deprecated in /nfs/c04/h04/mnt/60858/domains/yse.org.uk/html/wp-settings.php on line 512 Deprecated: Assigning the return value of new by reference is deprecated in /nfs/c04/h04/mnt/60858/domains/yse.org.uk/html/wp-settings.php on line 527 Deprecated: Assigning the return value of new by reference is deprecated in /nfs/c04/h04/mnt/60858/domains/yse.org.uk/html/wp-settings.php on line 534 Deprecated: Assigning the return value of new by reference is deprecated in /nfs/c04/h04/mnt/60858/domains/yse.org.uk/html/wp-settings.php on line 570
Stakeholder Engagement Consultants Group News
How one earplug company supports jobs for 200 people with disabilities. Bring the noise: DAP World CEO Douglas Pick. Photo © Jeff Clark Thanks to the ambient noise of his University of Southern California college campus and the surrounding urban chorus of screeching tires, police sirens and the occasional gunshot, Douglas Pick needed some sleep. Many nights, while a student at USC's Lloyd Greif Center for Entrepreneurial Studies, earplugs delivered the silence he craved. After leaving a job at A&M Records in 1992, Pick put the lessons from his USC days to work to research earplugs. TSELF - sources of help
51684_EN.pdf (application/pdf Object)
Edmonton SEF Presentation - BALTA 2009 Symposium.pdf (application/pdf Object)
2007CSS002 Att-1.pdf (application/pdf Object)
In 2000, I introduced the concept of Blended Value as a broader way of thinking about the nature of value creation by organizations (whether for-profit, nonprofit or hybrid) and through the application of capital (whether philanthropic, below-market or market rate). I developed the concept following a decade (1990-2000) of conversations with social entrepreneurs, founders of for-profit mission-driven companies, social investors, strategic/venture philanthropists, folks involved in sustainable development and so on—a decade at the end of which I realized I was having the same conversation with hundreds of folks, but each set of actors felt their particular community and issues were unique. What I concluded, however, was that these were all ultimately discussions about the nature of value—and they reflected an emerging understanding of value as "both/and" as opposed to "either/or;" they were discussions about value as a function of economic returns with social and environmental impact.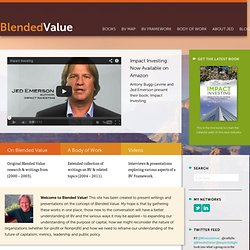 Blended Value
SOCIAL ENTREPRENEURSHIP Teaching Resources Handbook - PDFCast.org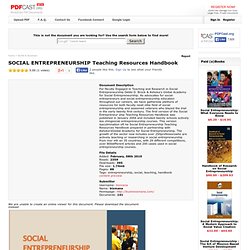 SOCIAL ENTREPRENEURSHIP Teaching Resources HandbookFor Faculty Engaged in Teaching and Research in Social EntrepreneurshipDebbi D. Brock& Ashoka's Global Academy for Social EntrepreneurshipJanuary 2008A S H O K A 2WelcomeAs advocates for social entrepreneurs and social entrepreneurship educationthroughout our careers, we have gathered a plethora of resources for bothfaculty new to the field of social entrepreneurship and seasoned veterans whoblazed the trail in the early twenty first century. The first version of the SocialEntrepreneurship Teaching Resources Handbook was published in January2004 and included twenty schools actively teaching social entrepreneurshipcourses. This version is a culmination of the Social EntrepreneurshipTeaching Resources Handbook prepared in partnership with Ashoka's GlobalAcademy for Social Entrepreneurship.
Social enterprise: opportunities and challenges — Knowhow Nonprofit
Business Planning for Social Impact.pdf (application/pdf Object)
guidetofinance_june05_eng.pdf (application/pdf Object)
Edmonton_Social_Enterprise_Fund.pdf (application/pdf Object)
Social Ventures in Waterloo Region_final report.pdf (application/pdf Object)
Social CRM ideas by Mark Tamis
Implementing programmes that could potentially bring about profound changes in the way a company does business also entails that we need to deal with people issues such of putting a lot of strain and stress on those involved and lack of motivation – or risk the programme failing. In order for the programme to be successfully carried through and arrive at the results that we seek, we also need to ensure that everyone involved understands the need for change and adapts to a different way of working. In the following post Dr Graham Hill looks at what the drivers are that we can leverage to obtain the optimal outcome.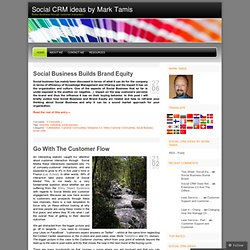 Social Entrepreneurship
The Fundamental Flaws in How We Finance the Nonprofit Sector By Nell Edgington Today the Nonprofit Finance Fund (NFF) released the results of their sixth annual State of the Nonprofit Sector survey and the data underlines a growing crisis in the financial sustainability of our nonprofit sector. 56% of nonprofit leader respondents reported that they were unable to meet demand for their services in 2013, this is the highest rate since the survey's inception six years ago. And the scary part is that this inability to meet demand is not because of a temporary down period in the economy, but rather because of deeper dysfunctions in how we funnel money to the sector. As Antony Bugg-Levine, CEO of NFF put it, "The struggles nonprofits face are not the short-term result of an economic cycle, they are the results of fundamental flaws in the way we finance social good."
Accelerating Social Innovation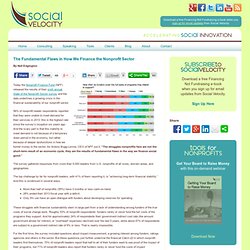 Downloading: SOCIAL ENTREPRENEURSHIP Teaching Resources Handbook