Engines
Console quality mobile games - Marmalade
Papaya Mobile | Free Android Game Engine, Android 2D OpenGL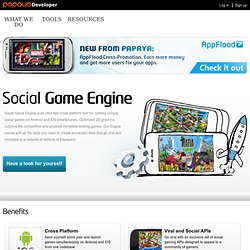 Accelerated development time, incredible support, and massive distribution within Papaya's Social Network helped our game become a huge hit on Android. - LoL Studio Creator of Cafe Fever AppFlood provided us with quality installs when we needed it.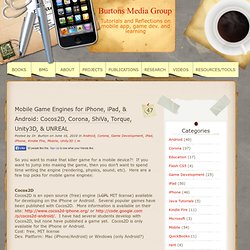 Mobile Game Engines for iPhone, iPad, & Android: Cocos2D, Corona, ShiVa, Torque, & Unity3D | Burtons Media Group
So you want to make that killer game for a mobile device?! If you want to jump into making the game, then you don't want to spend time writing the engine (rendering, physics, sound, etc). Here are a few top picks for mobile game engines: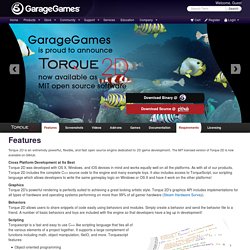 Torque 2D is an extremely powerful, flexible, and fast open source engine dedicated to 2D game development. The MIT licensed version of Torque 2D is now available on GitHub. Cross Platform Development at Its Best Torque 2D was developed with OS X, Windows, and iOS devices in mind and works equally well on all the platforms. As with all of our products, Torque 2D includes the complete C++ source code to the engine and many example toys. It also includes access to TorqueScript, our scripting language which allows developers to write the same gameplay logic on Windows or OS X and have it work on the other platforms!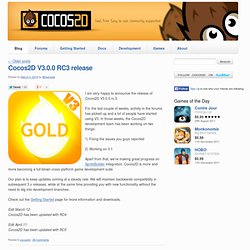 Note: The guest post was written a couple of months ago, but due to the release of V3, it has been delayed until now. In the meantime, the company StackMob has announced that it will discontinue its services. The observations and thoughts behind selecting a BaaS are still valid though. Written by @principe With the availability of BaaS (Backend as a Service, red) like Parse, StackMob, Kinvey and many others; developing a game powered by a server has never been easier.