Twittertools
The 7 Ways to Approach Twitter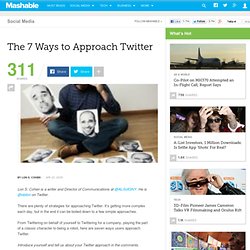 Lon S. Cohen is a writer and Director of Communications at @ALSofGNY. He is @obilon on Twitter. There are plenty of strategies for approaching Twitter.
How to Host Your own Short URLs
How To Get Re-Tweeted: Advice from Three PR Pros - mediabistro.c
Twitter CEO Evan Williams Interviewed on Charlie Rose [Video]
growing followers
Dat mag ik wel vergeten. Vandaag was ik van plan om nog snel naar de stomerij te gaan toen om wat was te gaan doen, maar toen ik de wasmand in de auto had gezet nadat ik eerst al alle ruiten rondom van een ijslaagje had moeten ontdoen bleek het ook nog eens dat de auto niet starten wou, daar stond ik dus. Ik heb dus de pechhulp mogen bellen en daar een uur mogen staan wachten vooralleer zij er waren, al kon ik het wel vergeten om vandaag nog naar de stomerij te gaan. Dan mag je echt wel lang wachten. Deze week of volgende week zou de loodgieter van Barendrecht normaal langs komen. Ik heb vandaag met hen gebeld en gevraagd eens langs te komen deze week of volgende week, zo´n haast heeft het niet du sheb ik leiver dat hij eerst de noodgevallen doet en dan pas de gevalletjes zoals dat van mij dat wel een tijdje kan wachten.
FlockUp : Find Similar Twitter Users