Twittertools
The 7 Ways to Approach Twitter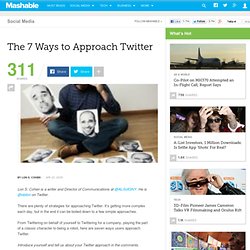 Lon S. Cohen is a writer and Director of Communications at @ALSofGNY. He is @obilon on Twitter. There are plenty of strategies for approaching Twitter.
How to Host Your own Short URLs
How To Get Re-Tweeted: Advice from Three PR Pros - mediabistro.c
Twitter CEO Evan Williams Interviewed on Charlie Rose [Video]
growing followers
Sommar,sommar,sommar Jag är helt såld på konstrotting just nu och har köpt in nya trädgårdsmöbler som jag är så glad över. Maken blev också nöjd även om jag köpt dem utan att ens kolla med honom. Men jag kände mig så säker på att de skulle gå hem hos honom att jag inte kände att jag behövde kolla innan. Nu ska jag komplettera där ute med stora och små ljuslyktor, ljusslingor och en stor eldkorg att värma sig vid. Sen är det bara att be till högre makter om en riktigt fin sommar.
FlockUp : Find Similar Twitter Users