Socialmedia
Socialnetworking. Marketing. Fun. Twittertools. Realtimeweb. Beth's Blog: How Nonprofits Can Use Social Media: Listening. Flickr Photo by Incurable Hippie I've been writing a lot about listening through social media channels in preparation for a live workshop for WeAreMedia next month in San Francisco.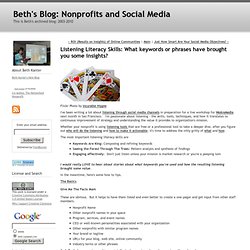 I'm passionate about listening - the skills, tools, techniques, and how it translates to continuous improvement of strategy and understanding the value it provides to organization's mission. Whether your nonprofit is using listening tools that are free or a professional tool to take a deeper dive, after you figure out who will do the listening and how to make it actionable, it's time to address the nitty gritty of what and how.
The most important listening literacy skills are. Baby books go digital. Mikaela Hammers, age 4, is still upset about her knees being hurt.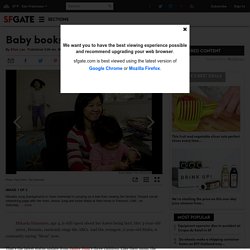 Her 3-year-old sister, Melanie, randomly sings the ABCs. And the youngest, 2-year-old Malia, is constantly saying "Mom" now. That's the latest status update from Janice Jung's three children. Like their mom, the toddlers each have their own online profile, only instead of Facebook, they're on TotSpot.
With an emphasis on diapers, purees and pacifiers, TotSpot, Kidmondo, Lil'Grams and others are taking baby steps online. The Last Days of Cubicle Life - The Future of Work. When Frank Lloyd Wright unveiled the Johnson Wax Building in 1939, it showcased a new way of looking at work.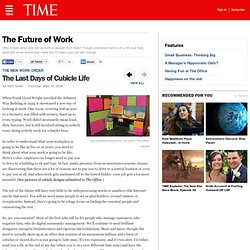 One room, covering half an acre (0.2 hectare), was filled with women, lined up in rows, typing. Work didn't necessarily mean loud, dirty factories, but it still involved sitting in orderly rows, doing orderly work for a finicky boss. P&G Digital Guru Not Sure Marketers Belong on Facebook. Do's and don'ts on twitter. If you have an online business, you've probably been told at least once to get on Twitter.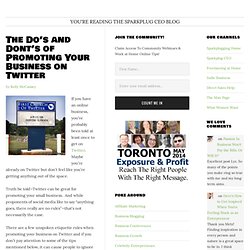 Maybe you're already on Twitter but don't feel like you're getting anything out of the space. Truth be told—Twitter can be great for promoting your small business. And while proponents of social media like to say "anything goes, there really are no rules"—that's not necessarily the case. There are a few unspoken etiquette rules when promoting your business on Twitter and if you don't pay attention to some of the tips mentioned below, it can cause people to ignore your friend requests or unfollow you all together. Just remember, Twitter is a community—not advertising space.
How to Improve Your Twinfluence and Twitter Grade. There has been a lot of talk over the last couple of weeks about two Twitter ranking tools, Twitter Grader and Twinfluence.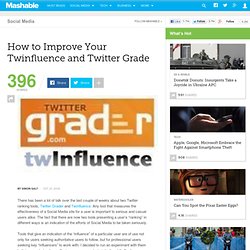 Any tool that measures the effectiveness of a Social Media site for a user is important to serious and casual users alike. The fact that there are now two tools presenting a user's "ranking" in different ways is an indication of the efforts of Social Media to be taken seriously. HOW NOT TO: Build Your Twitter Community. Sarah Evans is the director of communications at Elgin Community College (ECC) in Elgin, Illinois.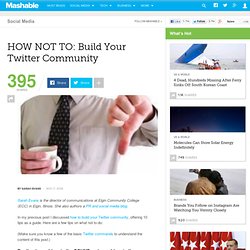 She also authors a PR and social media blog. In my previous post I discussed how to build your Twitter community, offering 10 tips as a guide. Here are a few tips on what not to do: 35+ Social Media Tools That Make Life Easier | Freelance Folder. Blog » DM Deleter.
---