Health
True fact: A common ingredient in commercial breads is derived from human...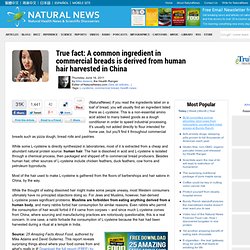 (NaturalNews) If you read the ingredients label on a loaf of bread, you will usually find an ingredient listed there as L-cysteine. This is a non-essential amino acid added to many baked goods as a dough conditioner in order to speed industrial processing. It's usually not added directly to flour intended for home use, but you'll find it throughout commercial breads such as pizza dough, bread rolls and pastries. While some L-cysteine is directly synthesized in laboratories, most of it is extracted from a cheap and abundant natural protein source: human hair. The hair is dissolved in acid and L-cysteine is isolated through a chemical process, then packaged and shipped off to commercial bread producers.
Healing foods reference database
Created by Mike Adams, the Health Ranger, as a free public service to promote health freedom and empower consumers with information about the healing power of foods. See NaturalNews.com and TruthPublishing.com to learn more.