Gardening
66 things you can grow in a container. Blog: 15 Cool Tents for Chic Camping Vacations. DON'T MISS OUT….. ?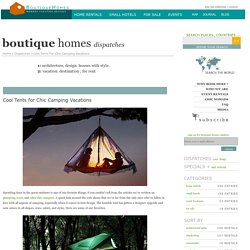 Get our latest discoveries straight to your inbox Spending time in the great outdoors is one of our favorite things, if you couldn't tell from the articles we've written on glamping, tents, and ultra-chic campers. A quick look around the web shows that we're far from the only ones who've fallen in love with all aspects of camping, especially when it comes to tent design. The humble tent has gotten a designer upgrade and now comes in all shapes, sizes, colors, and styles. Herself's Houston Garden — Gardening for fun and wildlife at the edge of Houston's piney woods. When to plant the vegetables in Houston. Asparagus – Jan 15->Feb 15th Beans ( lima and snap ) – March 1->April 7th and Sept 1->Sept 21 Beets – Feb 1->28 & Sept 21->Oct 15th Broccoli – Jan 21->Feb21 & Sept 15th ->Oct 15th.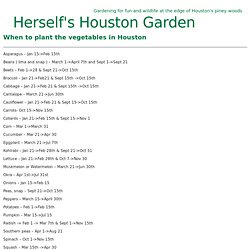 Www.feldoncentral.com/garden/2006PlantingPlan.pdf. Garden Guides, Your Guide to Everything Gardening - StumbleUpon. Irrigation System for Raised Bed Garden.
---