Philosophy
Stanford Encyclopedia of Philosophy. How to Deconstruct Almost Anything. Chip Morningstar, Electric Communities "Academics get paid for being clever, not for being right.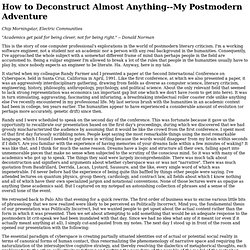 " -- Donald Norman This is the story of one computer professional's explorations in the world of postmodern literary criticism. I'm a working software engineer, not a student nor an academic nor a person with any real background in the humanities. Alain de Botton, The Pleasures and Sorrows of Work, Alain de botton, the architecture of happiness, the consolations of philosophy, how proust can change your life, essays in love, philosophy a guide to happiness, The School of Life.
The discoursenotebook. Top 10 Philosophy Blogs : World News : News & Politics. Brian Leiter is currently the John P.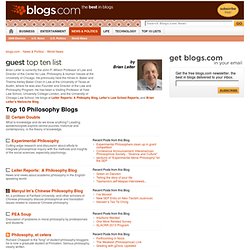 Wilson Professor of Law and Director of the Center for Law, Philosophy & Human Values at the University of Chicago. He previously held the Hines H. Alain de Botton: A kinder, gentler philosophy of success. The 4 Fail Whales of Social Media Marketing. [Editors' Note: As a public service, CRM's editors promise that nothing on the destinationCRM.com Web site dated 1 April 2009 is an April Fools' Day prank.]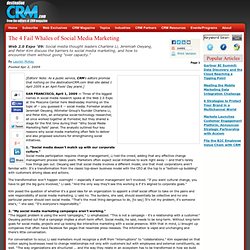 SAN FRANCISCO, April 1, 2009 — Three of the biggest names in social media research spoke at the Web 2.0 Expo at the Moscone Center here Wednesday morning on the topic of -- you guessed it -- social media. Forrester analyst Jeremiah Owyang, Altimeter Group's founder Charlene Li, and Peter Kim, an enterprise social-technology researcher, all once worked together at Forrester, but they shared a stage for the first time during their "Why Social Media Marketing Fails" panel.
The analysts outlined four key reasons why social media marketing often fails to deliver and also proposed solutions for strengthening social initiatives. 1.
---