Philosophy
The Stanford Encyclopedia of Philosophy organizes scholars from around the world in philosophy and related disciplines to create and maintain an up-to-date reference work. Principal Editor: Edward N. Zalta Current Operations Are Supported By: The Offices of the Provost, the Dean of Humanities and Sciences, and the Dean of Research, Stanford University The SEP Library Fund: containing contributions from the National Endowment for the Humanities and the membership dues of academic and research libraries that have joined SEPIA. The John Perry Fund and The SEP Fund: containing contributions from individual donors.
How to Deconstruct Almost Anything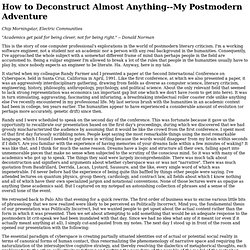 Chip Morningstar, Electric Communities "Academics get paid for being clever, not for being right." -- Donald Norman This is the story of one computer professional's explorations in the world of postmodern literary criticism. I'm a working software engineer, not a student nor an academic nor a person with any real background in the humanities.
the discoursenotebook
脚やせサプリランキング気になる太もも・お尻・ふくらはぎに! 脱!太ももコンプレックス きゅっと締まった太ももになるには、筋力アップが欠かせないと思っている方も多いですが、美脚を損ねている正体は無駄なむくみであることも多いのです もちろん筋肉のある太ももはしなやかで美しいですが、逆にだらしない、きれいじゃないと思う足は、むくみで膝がたるんでいたり、ブヨブヨ・タプタプとしている足だと思いませんか? 少しくらい太さはあってもむくみでブヨブヨとしていない限り、健康的で若々しいな太ももと言えますよね。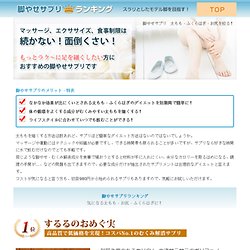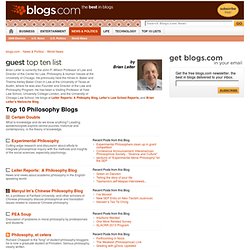 Top 10 Philosophy Blogs : World News : News & Politics
Brian Leiter is currently the John P. Wilson Professor of Law and Director of the Center for Law, Philosophy & Human Values at the University of Chicago. He previously held the Hines H.
The 4 Fail Whales of Social Media Marketing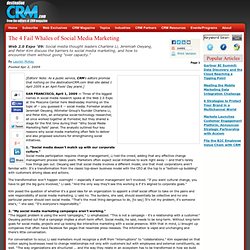 [Editors' Note: As a public service, CRM's editors promise that nothing on the destinationCRM.com Web site dated 1 April 2009 is an April Fools' Day prank.] SAN FRANCISCO, April 1, 2009 — Three of the biggest names in social media research spoke at the Web 2.0 Expo at the Moscone Center here Wednesday morning on the topic of -- you guessed it -- social media. Forrester analyst Jeremiah Owyang, Altimeter Group's founder Charlene Li, and Peter Kim, an enterprise social-technology researcher, all once worked together at Forrester, but they shared a stage for the first time during their "Why Social Media Marketing Fails" panel. The analysts outlined four key reasons why social media marketing often fails to deliver and also proposed solutions for strengthening social initiatives. 1.