Vegan Recipe Websites
My Vegan Cookbook » Lentil Loaf
Remember when I made mini-donuts and promised you a recipe? And then never gave you one? Well, today I decided to keep my word.
Mini Donut Test Kitchen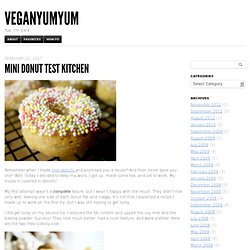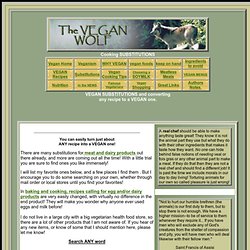 Virtually All meat is altered before it is eaten. The final product is "what it is" through texture, spices and usually a high contact of fat, which isn't good for you in any form.(see side note below) so using a "meat" replacement should not be that big of a deal. I of course haven't tried all the substitutes out there so there might be even better ones, since I found these. The ones I list here are the ones that I use in my recipes, and have fooled many a meat eater with them!
VEGAN substitutions and converting recipes to vegan
"My name is Sarah and I am a gluten-free vegan. I have two blogs: VaVaVegan, which is my daily blog, and This Is What I Eat, which is a photo journal of delicious vegan food that I eat and make for others. Recently I've been really focusing on living a whole foods-based lifestyle, enjoying clean, nutritious foods that fuel me for whatever activities I'm doing (which include running, training with my trainer and even just working long days on my feet). I want to show people that vegan food is not only delicious, but can provide a well-balanced and nutrition-packed diet. "The photo I wanted to submit is a Rice and Beans plate I've been enjoying regularly lately. It is 1/2 cup cooked rice, 1/2 cup cooked kidney beans, a handful of spinach, a handful of steamed broccoli topped with a half of an avocado.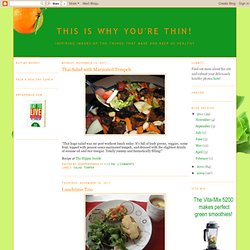 John Robbins was one of the first inspirational figures in my young adult life. His book Diet for a New America helped shape me into a young vegetarian and environmental activist, and as I've continued on through my life, his light has continued to shine and point me towards a life of greater compassion and kindness. Most recently, his books Healthy at 100 and The New Good Life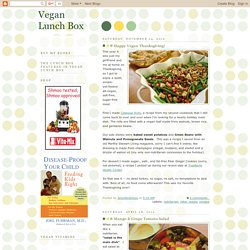 Let's plan a healthy diet. You can choose the foods to include in your routine, and we'll make it easy by giving you suggestions. If you like, we'll also give you recipes and a shopping list Meal Planner and Shopping Lists: Get menu ideas to plan meals for the whole week, and print out a shopping list of all the ingredients you'll need. Start by creating a free account, or login if you're already registered (it's free, and we won't share your information with anyone.) Creating a free account lets you automatically access your personal meal planner and shopping list every time you log in.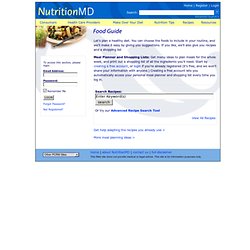 Recipes
Overview GoodGuide's Health ratings for food products are based on four attributes: the nutritional value of the food, as characterized by a standard method of nutrient assessment called the "Ratio of Recommended to Restricted Nutrients" (RRR),indicators of whether levels of specific nutrients exceed public health guidelines,the presence of potentially hazardous food additives, and indicators of various production practices that affect the quality of a food product. Product-level data on environmental performance are generally unavailable for specific food products, so GoodGuide relies on company-level environmental scores to characterize the performance of a product on this dimension.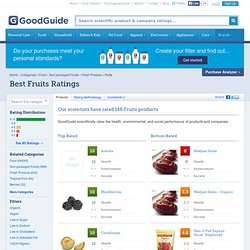 Fruits Ratings & Reviews | Best & Worst Products
Find Meals and Recipes Under 300 Calories
This warm potato salad is a step aside from the traditional version: it's cooked in a hot skillet and doesn't call for mayonnaise or other fattening dressings. ~Alina This tofu scramble is incredibly tasty with fantastic texture, and it's super healthy for you to boot. A delicious dish with an Italian flare, these eggplant rollups will warm your heart and soul! – Alina
I hope you enjoy this update of an old favorite, first posted in June of 2006. I've improved the recipe and added nutritional information and new photos. I had to make a dish to take to a potluck yesterday, and when I went to the pantry to assemble the ingredients for the pasta salad I'd planned to make, I found I was out of two essential ingredients. And I seemed to be missing an ingredient or two of every other "tried and true" recipe I could think of. I didn't really want to experiment on a new recipe when I would be serving the results to other people, but then I figured, what the heck: I didn't know most of the people who would be eating it anyway, and if it turned out terrible, I could put on a innocent expression and deny responsibility! Fortunately, I didn't have to resort to such subterfuge.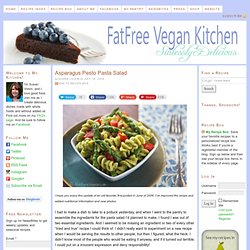 Asparagus Pesto Pasta Salad