Social Networks
The Future of Social Media: 50+ Experts Share Their 2013 Predictions. The world of social media underwent major changes in 2012.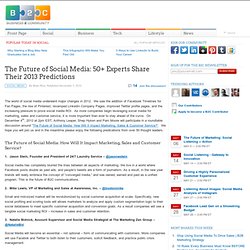 We saw the addition of Facebook Timelines for Fan Pages, the rise of Pinterest, revamped LinkedIn Company Pages, improved Twitter profile pages, and the increasing pressure to prove social media ROI. As more companies begin leveraging social media for marketing, sales and customer service, it is more important than ever to stay ahead of the curve. On December 4th, 2012 at 2pm EST, Anthony Leaper, Shep Hyken and Pam Moore will participate in a roundtable discussion around "The Future of Social Media: How Will It Impact Marketing, Sales & Customer Service?".
We hope you will join us and in the meantime please enjoy the following predications from over 50 thought leaders. The Future of Social Media: How Will It Impact Marketing, Sales and Customer Service? Make Social Part of Your DNA – Social Media Week London #smwdna #smwldn #social #socialgood | Web Dev News. TheFreeman's overview. Playfire. Le guide Facebook ultime pour les marques, les community managers et les entrepreneurs. Depuis quelques années nous vivons une bataille pour l'attention des internautes, dans laquelle les réseaux sociaux, pour ne pas dire Facebook, ont pris une place importante, grandissante, massive.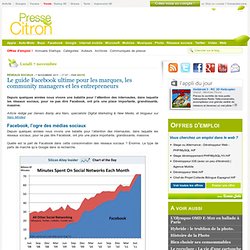 Article rédigé par Genaro Bardy aka Naro, spécialiste Digital Marketing & New Media, et blogueur sur Naro Minded. Facebook, l'ogre des médias sociaux Quelle est la part de Facebook dans cette consommation des réseaux sociaux ? Énorme. Le type de parts de marché qu'a Google dans la recherche. Official: Google +1 Button For Websites Comes Tomorrow. It's official.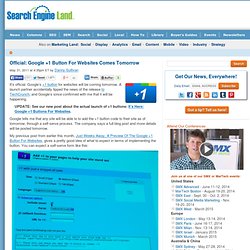 Google's +1 button for websites will be coming tomorrow. A launch partner accidentally tipped the news of the release to TechCrunch, and Google's since confirmed with me that it will be happening. UPDATE: See our new post about the actual launch of +1 buttons: It's Here: Google +1 Buttons For Websites. Google tells me that any site will be able to to add the +1 button code to their site as of tomorrow, through a self-serve process.
The company says a full blog post and more details will be posted tomorrow. Tweet search – one code, three mobile platforms (wp7, monodroid, monotouch) « Sigurd Snørteland. Public class Twitter public event EventHandler twitteSearchCompleted; public Twitter()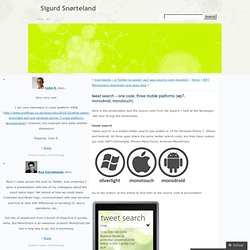 Does a Facebook Phone Make Any Sense? Twitter for iOS Gets New Photo Features. Twitter updated its official iPhone and iPad apps Thursday, offering improved and enhanced photo options, auto-link shortening and the ability to easily follow friends via the contacts in your address book.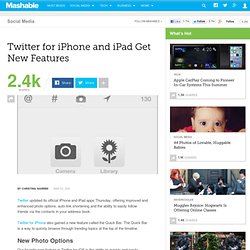 Twitter for iPhone also gained a new feature called the Quick Bar. The Quick Bar is a way to quickly browse through trending topics at the top of the timeline. New Photo Options Our favorite new feature in Twitter for iOS is the ability to quickly and easily attach photos to tweets. Welcome to Facebook! Facebook chat in Hotmail now available worldwide. Microsoft announced on Monday that Facebook chat is now available to Hotmail customers worldwide.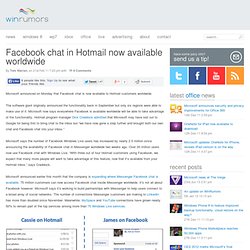 The software giant originally announced the functionality back in September but only six regions were able to make use of it. Microsoft now says everywhere Facebook is available worldwide will be able to take advantage of the functionality. Please Like Us! (Are All Those Facebook 'Likes' Worth It?) Want to get exclusive content on our brand Facebook page?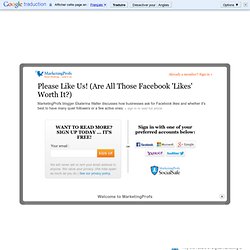 "Like" us! Want to participate in our fun new contest? Connect.me. Infographic: 40% of Facebook Users Ditch Brand Pages. Brands are Media Companies on the Social Web. Abstract: The Internet is now *Social*.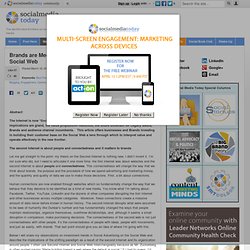 It is now organizing around people and connectedness. The implications are grand, the value proposition nebulous, the future uncertain for Legacy Media, Brands and audience channel incumbents. This article offers businesses and Brands investing in building their customer base on the Social Web a lens through which to interpret value and operate effectively in the new frontier. Foursquare. Foursquare. Foursquare. Foursquare. Foursquare. Entrepreneurs: stop networking and showing off and get back to work! Getting your startup in the newspaper is cool.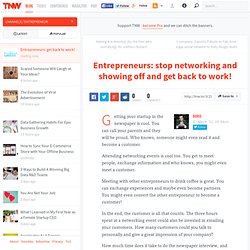 You can call your parents and they will be proud. Who knows, someone might even read it and become a customer. Attending networking events is cool too. You get to meet people, exchange information and who knows, you might even meet a customer. Meeting with other entrepreneurs to drink coffee is great. HOW TO: Add Social Sharing Buttons to Your Website. This is a simple plugin to allow you to toggle an element between position: absolute and position: fixed based on the window scroll position.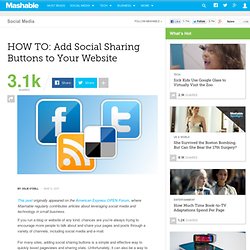 Dlvr.it : deliver your content to the social web. Twitter. Silan cares. 1 op de 9 vrouwen krijgt in haar leven borstkanker. Daarom steunt Silan Think-Pink. Enerzijds slaan Silan & Think-Pink de handen in elkaar om vrouwen op een toegankelijke en aangename manier te bereiken. Samen hebben ze hiervoor tal van acties ontwikkeld. Discover your world on Twitter. TwitFooter spruces up your email signatures with tweets. Adding a personalized signature to your emails is not only aesthetically pleasing, it's also useful for advertising and gaining followers.
Email signatures allow you to passively offer your contact information, website and social profiles to anyone you communicate with via email. A Canadian-based startup has developed a Twitter tool called TwitFooter that displays tweets in the footer of your email signatures.
---