Photo/Video/Audio Editing
Tiltshiftmaker.com - Transform your photos into tilt-shift style. PIXLR Photo editor online. PPT to Video. The leading free stock photography site. The GNU Image Manipulation Program. VUVOX - slideshows, photo, video and music sharing, Myspace code. Autostitch. AutoStitch works from unordered collections of images, automatically finding matches between images using the SIFT algorithm.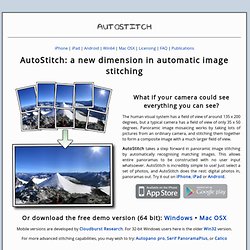 It then robustly aligns all images and uses advanced blending algorithms to form seamless panoramas (see below). For more details, see our research papers. 25 of 57 images aligned. Porta photo album generator. A no-nonsense, hassle-free photo album generator Porta turns an image directory into a neatly formatted web photo album.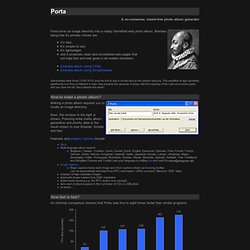 Besides being free its primary virtues are: It's fast, it's simple to use, it's lightweight, and it produces clean and uncluttered web pages that will load fast and look good in all modern browsers.Example album using HTML Example album using SimpleViewer Giambattista della Porta (1535-1615) was the first to add a convex lens to the camera obscura. This amplified its light sensitivity significantly and thus constituted a major step towards the cameras of today. Add the meaning of the Latin word porta (gate) and you have the full "story-behind-the-name". Picnik - Photo editing the easy way, online in your browser. Welcome to Aviary. Free Audio Editor and Recorder. Get Blender. Phixr - Online Photo Editor. Sumo Paint :: Online Image Editor :: Home.
---