Create
Paper Filigree Snowflake Gallery. I've switched over to using acid free paper and glue to make my paper filigree snowflake ornaments now.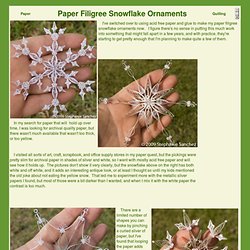 I figure there's no sense in putting this much work into something that might fall apart in a few years, and with practice, they're starting to get pretty enough that I'm planning to make quite a few of them. In my search for paper that will hold up over time, I was looking for archival quality paper, but there wasn't much available that wasn't too thick, or too yellow. I visited all sorts of art, craft, scrapbook, and office supply stores in my paper quest, but the pickings were pretty slim for archival paper in shades of silver and white, so I went with mostly acid free paper and will see how it holds up. The pictures don't show it very clearly, but the snowflake above on the right has both white and off white, and it adds an interesting antique look, or at least I thought so until my kids mentioned the old joke about not eating the yellow snow. Recycled glove chipmunk.
Sorry. Thanks. Road Rage Reduction Project. Learn the Science Behind Glow Sticks by Making Your Own. Please be careful when doing this.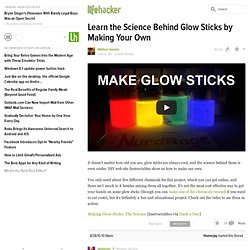 Although many people think of glow sticks as harmless, they aren't. One of the products from these reactions is Phenol, which can be extremely dangerous. If you get any on your skin, wash it off immediately. If you ingest or get any in your eyes, wash immediately (or rinse mouth out; DO NOT induce vomitting) and then call the doctor/poison control/hospital. That being said, I've had a lot of fun making my own glowing bath of chemicals. How to make roses from maple leaves.
Simply Vintagegirl Blog » Blog Archive » Tutorial: How to Make Lovely Fabric Flowers. 29 May 2010 These elegant fabric flowers are very simple to make . . . and only take a few basic supplies.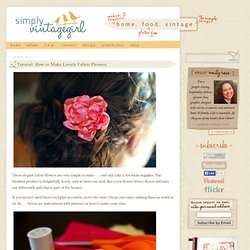 The finished product is delightfully lovely, and at times can look like a real flower! Every flower will turn out differently and that is part of the beauty! If you haven't used those tea lights in a while, now's the time! Create Your Own Sun Jar: Lifehacker Edition. Creative Kismet » Blog Archive » pillowcase pajama shorts tutorial. The boys desperately needed some pajama shorts, especially for days when pajama wear turns into daytime wear.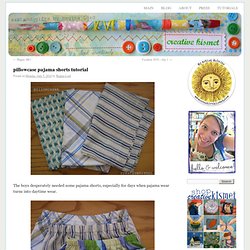 I had my little one try to pick fabric he liked, but I don't have much boyish stuff. Then I came across my pillowcase collection and there were a few that I thought would work. The best part about using pillowcases, is that you can take advantage of the hem and, in some cases the side seams, which means less sewing. YAY! I thought I'd share with you how I made these. Paper Flowers – Anyone Can Do That | FindInspirations.com. Japanese Kusudama, this tutorial is featured on Craftuts Anyone can do that, I assure you.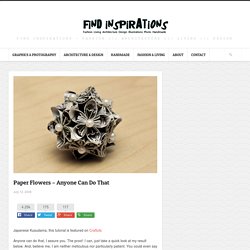 The proof: I can, just take a quick look at my result below.
---