Health & Wellbeing
Foods for Workouts: Cardio. An all-around healthy diet is best for any exercise routine, but cardiovascular exercise requires a balance of special nutrients.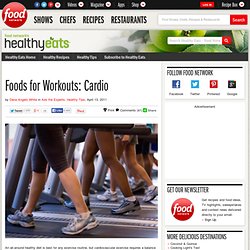 If you get cardiovascular exercise regularly (and we all should) – here's how to fuel up. Cardio Basics Cardio exercise like walking, running and biking require energy from both carbohydrates and fat. Carbohydrates are the body's #1 go-to source, but healthy sources of fat also give ample doses of energy. As exercise intensity changes (like due to an increase in speed or running uphill, for example), the body switches back and forth between carbs and fat to provide energy. Since you can't completely control how and when the body needs what nutrient, it's best to have adequate amounts of both as a regular part of the diet.
HOMEGROWN - Celebrate "culture" in agriculture & share skills like growing, cooking, canning. Modern wheat a "perfect, chronic poison," doctor says. (CBS News) Modern wheat is a "perfect, chronic poison," according to Dr.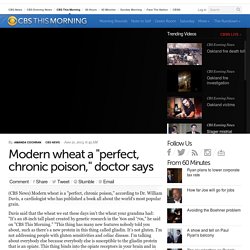 William Davis, a cardiologist who has published a book all about the world's most popular grain. Davis said that the wheat we eat these days isn't the wheat your grandma had: "It's an 18-inch tall plant created by genetic research in the '60s and '70s," he said on "CBS This Morning. " 10 Foods You Should Eat for Pre and Post Workout.
---