Home Design
Retro-classic White Accent Chairs (Set of 2
There is no escaping those innate and early-learned associations – for some, it means sleeping to gentle noises on planes, and for others, the act of rocking tilts us softly into a deep slumber. Richard Clarkson and company wanted to create a kind of low-tech, sensory-deprivation, sofa-style seat where one can curl up and forget the workaday worries of ordinary life … and perhaps even doze over before you notice you are slowly falling asleep. While there is art and craft in this object, there is science that went into its design as well. Specifically, research into autistic children and those who suffer from RMD (rhythmic moving disorder) played a crucial role in the shape and structure of the result. For all its theoretical complexity, the final form looks quite simple (and extremely comfortable).
Photo Album
THE most magical things in life are the ones that spring up where you least expect them — the rosebush in the abandoned lot, for example, or in the case of Sandra Foster, the tiny Victorian cottage in the Catskills that shares space with a 1971 mobile home, two aged trucks, a pen full of chickens and a hand-lettered sign advertising "Farm Fresh Eggs, $2 a Dozen." The chickens and their eggs are the remnants of a restaurant that Ms. Foster's husband, Todd, a great bear of man, tried to run in this sleepy college town last summer; like the landscape business he started a few years earlier, it failed. Mr. Foster, who is working at a local poultry farm, is still recovering from back troubles, making Ms. Foster, a fiscal administrator at on Long Island, the primary wage earner.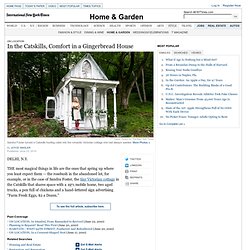 Dream of a Home Takes the Shape of a Victorian Retreat
Ulock Holster : DESIGN PORTFOLIO
Diy posts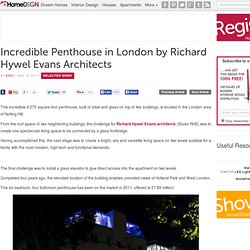 Incredible Penthouse in London by Richard Hywel Evans Architects
This incredible 8,072 square foot penthouse, built of steel and glass on top of two buildings, is located in the London area of Notting Hill. From the roof space of two neighboring buildings, the challenge for Richard Hywel Evans architects (Studio RHE) was to create one spectacular living space to be connected by a glass footbridge. Having accomplished this, the next stage was to create a bright, airy and versatile living space on two levels suitable for a family with the most modern, high-tech and functional demands. The final challenge was to install a glass elevator to give direct access into the apartment on two levels.
Parisian Inspiration by Corbin Gurkin Photography | Style Me Pretty : The...
Good morning lovelies. It is time to rise and shine and delve into a little French inspiration that is equal parts breath taking and le swoonable … just how we like it. Corbin Gurkin , one of our absolute favorite photographers, was the woman behind the gorgeous images. She teamed up with some fantabulous vendors to create an ode to Paris including Ceci New York who whipped up some beautiful paper goods, drop dead gorgeous gowns by Delphine Manivet and one of the prettiest cakes we ever did see courtesy of Sugarplum Cake Shop . Prepare to be blown away. See the rest of this lovely shoot here.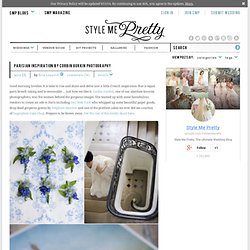 Posted by ReadyMade Patricia Heal, Styling by Rational Beauty This electrical spool looks anything but utilitarian.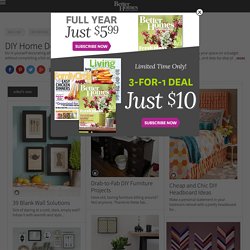 RM100: Upholstered Spool Ottoman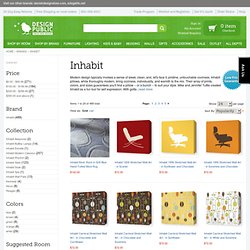 Thank you so much for the Emma Jeff's White Flower and Lace adhesive. We could not be happier with the results of this product to give us "beautiful" privacy on our restored front door... Thank you so much for your service and this exceptional product. Brenda T.
Inhabit Wall Flats - Architect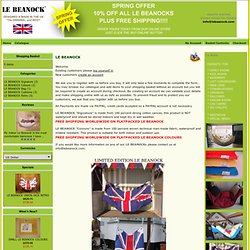 LE BEANOCK
Welcome Existing customers please log yourself in New customers create an account We ask you to register with us before you buy, it will only take a few moments to complete the form.. You may browse our catalogue and add items to your shopping basket without an account but you will be required to create an account during checkout.