Artist Blogs/Sites
Photography. Illustration/Comics. Amazing Art Works Based On Children's Drawings. The photos you are about to see are part of the "The Monster Engine Project", created by Dave DeVries.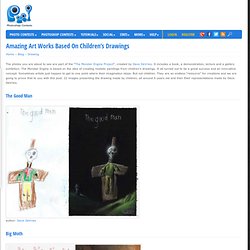 It includes a book, a demonstration, lecture and a gallery exhibition. The Monster Engine is based on the idea of creating realistic paintings from children's drawings. It all turned out to be a great success and an innovative concept. Sometimes artists just happen to get to one point where their imagination stops.
Only Have Eyes For Disney: Pics, Videos, Links, News. 21 Amazing Examples Of Shadow Art: Pics, Videos, Links, News.
---