DIY
Creative Soul Spectrum: DIY Bleach Dipped Scalloped Shorts. I'm finally back from my long relaxing vacation, and rest assured that I haven't returned empty handed!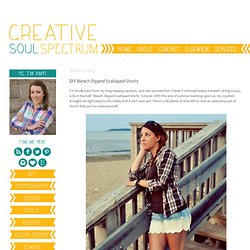 I bring to you, a Do It Yourself "Bleach Dipped Scalloped Shorts" tutorial. With the end of summer looming upon us, my vacation brought me right back to the reality that it ain't over yet!
DYI PROJECTS
DIY Accesories / diy: pearl collar necklace. How to Tie the Celtic Heart Knot by TIAT (A Knotty Valentine) How To Make Leg Warmers or Boot Socks. October 20, 2011 6:13 am Wow!
I've been absent a while! ...love Maegan: 10 Ways to Easily Upcycle Vintage Rhinestone Earrings Fashion. DIY. Lifestyle. I found these large vintage rhinestone earrings on Ebay for under $5, but I'm 100% sure my local thrift shops have a nice little collection and yours would too.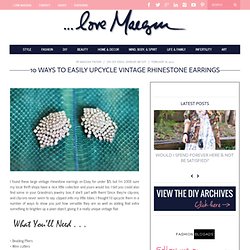 I bet you could also find some in your Grandma's jewelry box, if she'll part with them! Since they're clip-ons, and clip-ons never seem to say clipped onto my little lobes, I thought I'd upcycle them in a number of ways to show you just how versatile they are as well as adding that extra something to brighten up a plain object, giving it a really unique vintage flair. * Beading Pliers* Wire cutters* Hot glue gun First things first… let's remove the earring backs. * Using your pliers, bend the clip on metal piece up, and using your wire cutters, snip them off at the base.
Pearl Stud Collar. Today's DIY is a little different than usual, as I'm collaborating with Kiley and Caitlin.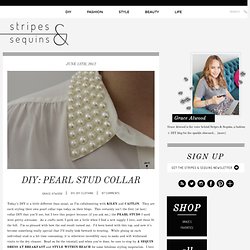 They are each styling their own pearl collar tops today on their blogs. This certainly isn't the first (or last) collar DIY that you'll see, but I love this project because (if you ask me,) the pearl studs I used were pretty awesome. As a crafts nerd, I geek out a little when I find a new supply I love, and these fit the bill. DIY Accesories. Linen, Lace, & Love. We have, hands down, the best Dad in the whole world.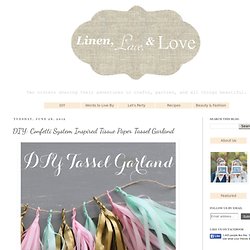 He is the most patient man on the planet, putting up with three women in the family. He likes to say, "I always dreamed of being surrounded by beautiful women, I just didn't think I would have to support all of them. " Daddy, You are our hero in every way. Thank you for teaching us about love, and patience, and sacrifice. Thank you for being a constant example of our Heavenly Father, and gently guiding us through all of life's ups and downs. Fun stuff. Top 10 Bracelet Tutorials - Best DIY Friendship Bracelets - Favorite Stylish Wrap Bracelets. Hi!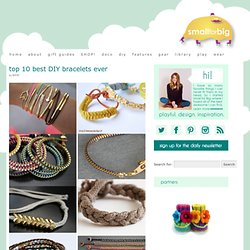 Welcome to Small for Big – the place where all things playful and well-designed hang out together! (scroll down to learn more about my design finds!) Um. Video Tutorials | Make Bracelets! DIY - jewelry. Diy dannijo - Going West - San Francisco Fashion & Personal style blogger. They say imitation is the sincerest form of flattery. and i have more time on my hands than dollars in my pocket, so when i see a $445 dannijo necklace i love - that's like a year's worth of burritos - i have to get crafty. here's my diy version of the dannijo capucine. i bought my vintage rhinestone necklace on ebay and my neon nail polish from claire's. total spent: $25.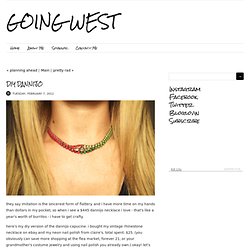 (you obviously can save more shopping at the flea market, forever 21, or your grandmother's costume jewelry and using nail polish you already own.) okay! Let's get started: DIY Braided Bead Bracelet. It's been awhile since our last bracelet DIY.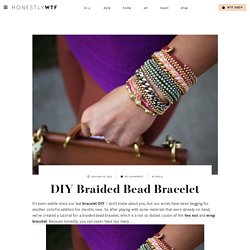 I don't know about you, but our wrists have been begging for another colorful addition for months now. So after playing with some materials that were already on hand, we've created a tutorial for a braided bead bracelet, which is a not so distant cousin of the hex nut and wrap bracelet. Project Re-Style #47 Glitter Heel Fix. I was debating over a couple of Re-Styles this week, but because of a few parties, the glitter heels won out in the end.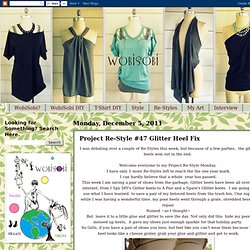 Welcome everyone to my Project Re-Style Monday. I have only 5 more Re-Styles left to reach the the one year mark. I can hardly believe that a whole year has passed. D.I.Y. WobiSobi, DIY. DIY Wrap Bracelet - Honestly WTF - StumbleUpon. You should all know by now that we are all about stacking bracelets on our wrists.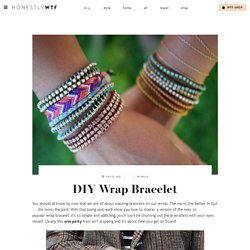 The more, the better. In fact . . . the most, the best!
---