Twitter and the DoJ Court Order
WikiLeaks Twitter spying may break EU privacy law | THINQ.co.uk. A group of European MPs will today push EU bosses to say if the US government breached European privacy laws by snooping on Twitter users with links to whistle-blowing site WikiLeaks.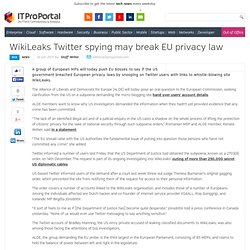 The Alliance of Liberals and Democrats for Europe (ALDE) will today pose an oral question to the European Commission, seeking clarification from the US on a subpoena demanding the micro-blogging site hand over users' account details. ALDE members want to know why US investigators demanded the information when they hadn't yet provided evidence that any crime has been committed.
"The lack of an identified illegal act and of a judicial enquiry in the US casts a shadow on the whole process of lifting the protection of citizens' privacy for the sake of national security through such subpoena orders," Romanian MEP and ALDE member, Renate Weber, said in a statement. "The EU should raise with the US authorities the fundamental issue of putting into question those persons who have not committed any crime," she added. Feds subpoena Twitter for info on WikiLeaks backer. High performance access to file storage US authorities have subpoenaed Twitter for information about an Icelandic parliamentarian who until recently was a vocal supporter of WikiLeaks and its embattled founder Julian Assange.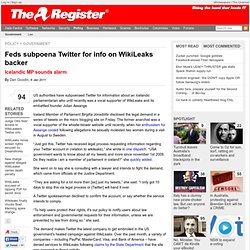 Iceland Member of Parliament Birgitta Jónsdóttir disclosed the legal demand in a series of tweets on the micro blogging site on Friday. The former anarchist was a vocal supporter of the whistle-blower website until recently, when her enthusiasm for Assange cooled following allegations he sexually molested two women during a visit in August to Sweden. "Just got this: Twitter has received legal process requesting information regarding your Twitter account in (relation to wikileaks)," she wrote in one dispatch. "USA government wants to know about all my tweets and more since november 1st 2009. Twitter Informs Users Of DOJ WikiLeaks Court Order, Didn't Have To. Photo © 2008 walknboston | more info (via: Wylio)The US Department of Justice has served Twitter with a 2703(d) court order to reveal information about accounts related to people associated with WikiLeaks.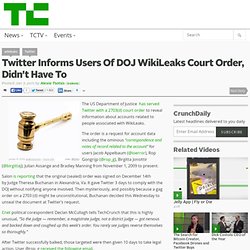 The order is a request for account data including the ominous "correspondence and notes of record related to the account" for users Jacob Appelbaum (@ioerror), Rop Gongrijp (@rop_g), Birgitta Jonsittir (@birgittaj); Julian Assange and Bradley Manning from November 1, 2009 to present. Salon is reporting that the original (sealed) order was signed on December 14th by Judge Theresa Buchanan in Alexandria, Va.
It gave Twitter 3 days to comply with the DOJ without notifying anyone involved. Then mysteriously, and possibly because a gag order on a 2703 (d) might be unconstitutional, Buchanan decided this Wednesday to unseal the document at Twitter's request. U.S. Twitter Subpoena Is Harassment, Lawyer Says. U.S. prosecutors' demand that the microblogging service Twitter Inc. hand over data about users with ties to WikiLeaks amounts to harassment, said a lawyer for Julian Assange, the website's founder.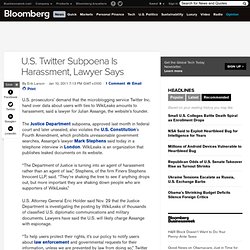 The Justice Department subpoena, approved last month in federal court and later unsealed, also violates the U.S. Constitution's Fourth Amendment, which prohibits unreasonable government searches, Assange's lawyer Mark Stephens said today in a telephone interview in London. WikiLeaks is an organization that publishes leaked documents on its website. "The Department of Justice is turning into an agent of harassment rather than an agent of law," Stephens, of the firm Finers Stephens Innocent LLP, said. WikiLeaks' Twitter Followers Spooked By DoJ Court Order | Dark Politricks. Forbes Parmy Olson 10th January 2011 You'd be forgiven for feeling a little nervous if you follow WikiLeaks on Twitter.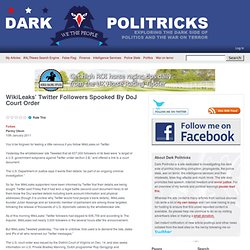 Yesterday the whistleblower site Tweeted that all 637,000 followers of its feed were "a target of a U.S. government subpoena against Twitter under section 2.B," and offered a link to a court document. The U.S. Department of Justice says it wants their details "as part of an ongoing criminal investigation."
---