Tech
Popgadget Personal Technology for Women. Gadget Lab - Hardware That Rocks Your World. Redsn0w 0.9.9b8 Released. Published on 11-03-2011 02:49 PM Redsn0w 0.9.9b8 is fully compatible with the iOS 5.0.1 Beta released to developers yesterday.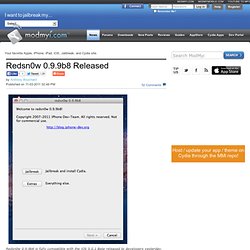 Yesterday, Apple pushed out the iOS 5.0.1 Beta to developers which has fixed numerous bugs in iOS 5 and brings the beloved multitasking gestures back to the original iPad. It was reported that iOS 5.0.1 could have been jailbroken with redsn0w 0.9.9b7, although you would need to point redsn0w to the iOS 5.0 firmware file, and the jailbreak was tethered.
Engadget. Macworld. Gizmodo, the Gadget Guide. 9to5 Mac. Product reviews and prices, software downloads, and tech news - CNET. Lifehacker, tips and downloads for getting things done.
---