Unsorted
Get flash to fully experience Pearltrees
Library of Congress number 72-157115 (stolen from Library of Congress) copyright ©1971 PIRATE EDITIONS Restaurants Food Programs
Whether you're a student looking for supplemental learning or you're in the workforce but thirsty for knowledge, you don't have to drop thousands of dollars in tuition to enjoy a top-notch education from some of the best schools in the world. Computer photo by marcopako ; university building photo by J-a-x . While most online resources won't grant you a college degree, there's a lot more to the internet than Wikipedia when it comes to learning. Whether you learn best through video or text, want to take a year-long course or just to touch up on a few topics, there are more than a few places online that can give you the full experience. In fact, there are enough that it can get quite overwhelming, so we've rounded up the best resources to make it all a bit more manageable. Here are some of the best places to get an education without ever leaving your computer.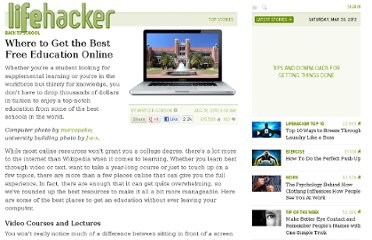 It usually takes us much longer to change our moods than we'd like it to take. Here are ten things you can do in ten minutes or less that will have a positive emotional effect on you and those you love. . See it online at Oprah.com . This is a deeply moving segment that may be the best ten minutes you've ever invested in front of a computer.
The following quotations were randomly selected from the collections selected below . We touch other peoples lives simply by existing. J. K.
8th December 2010 – I love animation and I have a vast collection of animation on display on my media shelves at home but on there you won't find the sugary sweet world of Disney Cinema (apart from Pixar collaborations!) but a huge collection of Japanese anime. I've been hooked on anime since I was very young. I think the first experience of anime was Castle in the Sky and Akira . In this post I wanted to show my love and appreciation of the magnificent Studio Ghibli who have been making some of my all-time favourite animations.