Facebook Marketing
I'm currently working on a project that brings together musicians from areas of conflict around the world and has them collaborating, rehearsing and performing across the UK over a number of weeks. I'm working remotely on this project, in an advisory capacity, since I'm also currently in Brazil making a documentary film about independent music. We have a small group of enthusiastic young people on the ground who are capturing the event using digital media – for posterity, for the blog and to communicate the project to the outside world. I've been asked to give some advice so that they know what to capture and how.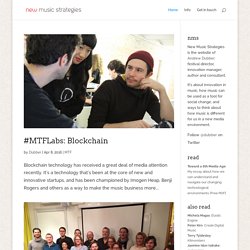 New Music Strategies
Find Out What's Trending on Facebook
This post is part of Mashable's Spark of Genius series, which highlights a unique feature of startups. The series is made possible by Microsoft BizSpark.. If you would like to have your startup considered for inclusion, please see the details here.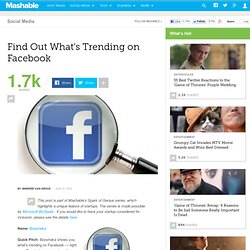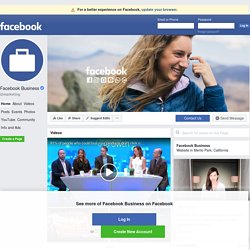 Facebook fête ses 10 ans : Merci à tous! Depuis sa création le 4 Février 2004, Facebook est devenu un service global et mobile, avec plus de 1,23 milliard d'utilisateurs actifs par mois dans le monde, 26 millions en France dont 18 millions ...chaque jour. Le succès de Facebook n'aurait pas été possible sans vous, ses utilisateurs, qui ont contribué à faire du site une partie intégrante de leur vie quotidienne et qui partagent plus de 6 milliards de Likes chaque jour en moyenne ! Pour vous remercier, Facebook lance « Une Rétrospective », un produit qui vous propose de créer un film personnalisé qui retrace vos plus grands moments sur Facebook. Pour revivre vos meilleurs souvenirs sur Facebook : https://www.facebook.com/lookbackSee More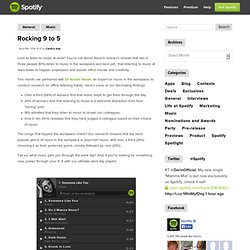 Spring is in the air and with that, the first signs of Festival season - kicking off with Coachella Music and Arts Festival this weekend. This year, we're thrilled to be the Official Digital Music Partner for the Festival and we'll be turning up the volume in Indio! We'll be on the ground with a Spotify tent as well as a unique interactive website to to deepen your Coachella experience both during the festival weekend and long after the stage lights have turned off. Our Spotify tent, located in the Terrace section between the Sahara Tent and the Mojave Tent, will be the perfect oasis for festival goers.
Blog