Code
You can see your code, run it, and see what it outputs all at the same time. This makes it a lot easier to learn. KidsRuby is real Ruby code. You can also do anything that "Hackety-Hack" can do like display messages. (Hackety-Hack is an older program for kids to learn programming using Ruby).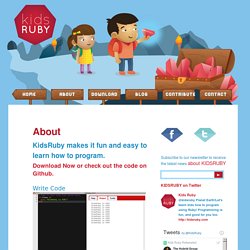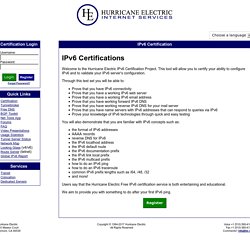 Hurricane Electric IPv6 Certification
Welcome to the Hurricane Electric IPv6 Certification Project. This tool will allow you to certify your ability to configure IPv6 and to validate your IPv6 servers configuration. Through this test set you will be able to: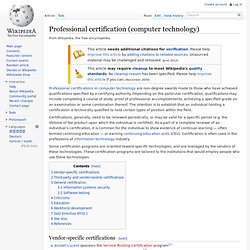 Professional certification (computer technology)
Professional certifications in computer technology are non-degree awards made to those who have achieved qualifications specified by a certifying authority. Depending on the particular certification, qualifications may include completing a course of study, proof of professional accomplishments, achieving a specified grade on an examination or some combination thereof. The intention is to establish that an individual holding a certification is technically qualified to hold certain types of position within the field. Certifications, generally, need to be renewed periodically, or may be valid for a specific period (e.g. the lifetime of the product upon which the individual is certified). As a part of a complete renewal of an individual's certification, it is common for the individual to show evidence of continual learning — often termed continuing education — or earning continuing education units (CEU).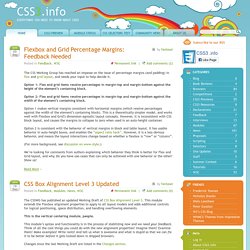 The CSS Working Group has published an updated Working Draft of CSS Grid Layout. This CSS module defines a two-dimensional grid-based layout system optimized for user interface design. This is publication is a major update: not only has the draft generally been reorganized and much of the prose rewritten to fill in missing details, avoid repetition, improve precision and terminology, and ensure alignment with Flexbox, but it's switched to a new positioning model. The old grid layout model uses properties to indicate the starting row/column and the item's span. The new grid layout model positions each edge of the item to a grid line.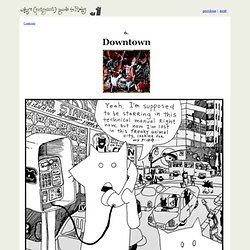 why's (poignant) guide to ruby :: 6. Downtown
Oblivious to their involvement in the expansive plan of The Originals, both the tall fox and the much shorter fox had wandered right into the red alert zone, the city Wixl. I desire a spatula to scoop them aside with, shuffle them off to the coast near the beach hatcheries, hide them in piles of fish eggs, hold down their pointy ears, concealing their luxurious hides. And above them I would stand, casting an unmoving shadow, holding my rifle aloof. I can't.