Buddha Belly
Japanese Zen Buddhist Philosophy. First published Wed Jun 28, 2006; substantive revision Fri Oct 8, 2010 Zen aims at a perfection of personhood.
To this end, sitting meditation called "za-zen" is employed as a foundational method of prāxis across the different schools of this Buddha-Way, through which the Zen practitioner attempts to embody non-discriminatory wisdom vis-à-vis the meditational experience known as "satori" (enlightenment). A process of discovering wisdom culminates in the experiential dimension in which the equality of thing-events is apprehended in discerning them. The most distinguishing feature of this school of the Buddha-Way is seen in its contention that wisdom, accompanied by compassion, is expressed in the everyday "life-world" when associating with one's self, people, and nature.
Tibetan Buddhism Archives. Sacred-Texts Buddhism Tibetan Buddhism Archives Here, in no particular order, are miscellaneous articles about Tibetan Buddhism from various sources on the Internet, mostly predating the World Wide Web.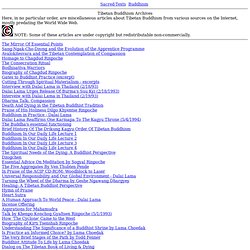 The Tibetan Book of Living and Dying. In his foreword to the book, the 14th Dalai Lama says: In this timely book, Sogyal Rinpoche focuses on how to understand the true meaning of life, how to accept death, and how to help the dying, and the dead...Death and dying provide a meeting point between the Tibetan Buddhist and modern scientific traditions.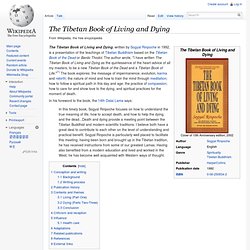 I believe both have a great deal to contribute to each other on the level of understanding and practical benefit. The Buddha and His Dhamma, by Dr. B. R. Ambedkar. *Part I — From Birth to Parivraja* *Part II — Renunciation for Ever* *Part III — In Search of New Light* *Part IV — Enlightenment and the Vision of a New Way* *Part V — The Buddha and His Predecessors* *Part VI — The Buddha and His Contemporaries* *Part VII — Comparison and Contrast* *Part I — Buddha and His Vishad Yoga* *Part II — The Conversion of the Parivrajakas* *Part III — Conversion of the High and the Holy* *Part IV — Call from Home* *Part V — Campaign for Conversion Resumed* *Part VI — Conversion of the Low and the Lowly* *Part VII — Conversion of Women* *Part VIII — Conversion of the Fallen and the Criminals* *Part I — His Place in His Dhamma* *Part II — Different Views of the Buddha's Dhamma* *Part III — What is Dhamma* *Part IV — What is Not Dhamma* *Part V — What is Saddhamma*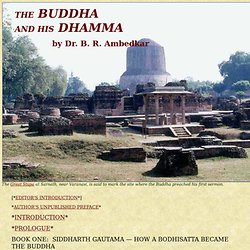 ---