Accessories
BUBBLE WAND NECKLACE & ROSE SOLUTION SET | Valentine's Day Gift, For Her, Romantic Jewelry. Dynomighty. CROCHET BOW HEADPHONES | Earmuff Headphones, Knit Headphones for Women. Take A Bow Like your favorite nubby headband, these adorable, crochet headphones keep you looking sweet and pulled together--even if you're rocking out to '80s metal.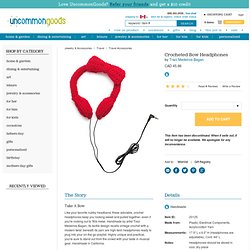 Handmade by artist Traci Medeiros-Bagan, its tactile design recalls vintage crochet with a modern twist: beneath its yarn are high-tech headphones ready to plug into your on-the-go playlist. Highly unique and practical, you're sure to stand out from the crowd with your taste in musical gear. Handmade in California. MODERN WRISTLET Linen Floral Padded Case with by Upstyle. I love WRISTLETS!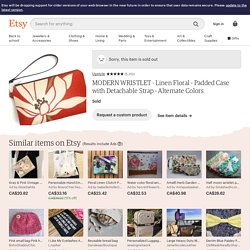 Perfect to carry out on the town - the detachable strap makes it easy to keep it close. Perfect to carry everyday inside your handbag to secure and organize your small items. This gorgeous wristlet is made with lovely glazed linen that features a modern flower in ivory with accents in shades of brown and grey on a vibrant coral red background. Also available in alternate colors. Contact me for more information.
---