Accessories
Magic Wand Let your love bubble over with joy at the twirl of this lead-free pewter necklace wand and enchanting, rose-scented bubble solution. A charming necklace straight from a fairytale that takes a whimsical turn for hopeless romantics of any age. Handmade in California. Item ID: 20120 Materials: soap, pewter, essential oils, stainless steel, Glycerin Chain: 24", Wand: 3", Solution: 2 oz.
BUBBLE WAND NECKLACE & ROSE SOLUTION SET | Valentine's Day Gift, For Her, Romantic Jewelry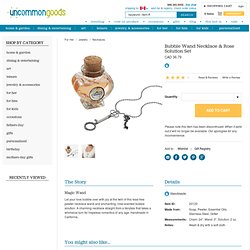 Dynomighty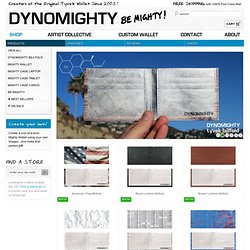 <div class="modalContainer" style="display:block;"><div class="modal" style="text-align:center;"><h3 style="color:#900;"> Please turn on javascript in your browser settings.</h3><p>This site does not work properly without it!</p><a href="./" class="buttons" style="float:right;">OK Javascript is on</a><a href="./?noJs" class="buttons neutral" style="float:left;">Visit the site anyways</a><div class="clearBoth"></div></div></div> Home | About | Shop | Contact | Privacy Policy | Credits ©2013 Dynomighty Design | 18 Bridge Street, Suite 4G, Brooklyn NY 11201 | 212-431-3005 DuPont™ and Tyvek® are trademarks or registered trademarks of E.I. du Pont de Nemours and Company.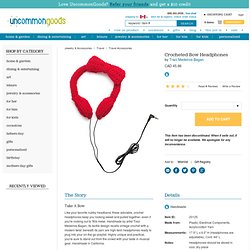 CROCHET BOW HEADPHONES | Earmuff Headphones, Knit Headphones for Women
Take A Bow Like your favorite nubby headband, these adorable, crochet headphones keep you looking sweet and pulled together--even if you're rocking out to '80s metal. Handmade by artist Traci Medeiros-Bagan, its tactile design recalls vintage crochet with a modern twist: beneath its yarn are high-tech headphones ready to plug into your on-the-go playlist. Highly unique and practical, you're sure to stand out from the crowd with your taste in musical gear. Handmade in California. Item ID: 20125 Materials: plastic, electrical wiring, acrylic/cotton yarn 17.5" L x 6.5" H (Headphones are adjustable), Cord: 44" L Headphones should be stored in cool, dry place This item has been discontinued.
MODERN WRISTLET Linen Floral Padded Case with by Upstyle on Etsy