Facebook
Hacking your Facebook inbox - The Tekblog. How easy is it to hack your Facebook inbox?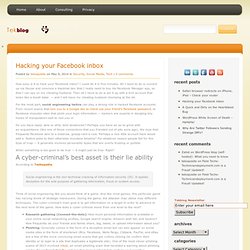 I could do it in five minutes. All I need to do is connect up via Skype and convince a blackhat dev that I really need to buy his Facebook Manager app, so that I can spy on my cheating husband. Then all I have to do is set it up with a troll account that looks like a booth babe — and I will have my cheating husband chomping at the bit. For the most part, social engineering tactics can play a strong role in hacked Facebook accounts. Iron Cagebook. "No one knows who will live in this cage in the future, or whether at the end of this tremendous development, entirely new prophets will arise, or there will be a great rebirth of old ideas and ideals, or, if neither, mechanized petrification, embellished with a sort of convulsive self-importance.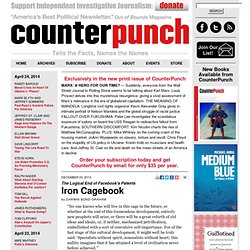 For of the fast stage of this cultural development, it might well be truly said: 'Specialists without spirit, sensualists without heart; this nullity imagines that it has attained a level of civilization never before achieved.'" —Max Weber, 1905 On November 12 Facebook, Inc. filed its 178th patent application for a consumer profiling technique the company calls "inferring household income for users of a social networking system." Facebook game requirement: A birth certificate? - Tekblog | Tekblog. Wolf Pack, a Facebook app center game,blew me away recently when a fan messaged me and asked what I thought about a game that required a user to prove their real life identity.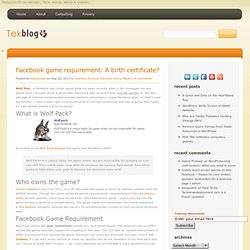 In this day and age of Internet snooping that includes hackers; advertisers; rogue Facebook apps; ID thief's, and Big Brother — who in their right mind would want to surf bare-bottomed and play a game that masks it's own identity behind a privacy shield? What is Wolf Pack? According to the Wolf Pack fanpage the game was founded in 2009: Wolf Packs is a unique highly fun game where you are responsible for bringing up your own wolf from cub to elder. Look after its emotions, go hunting, fight wolves from other packs or fight within your pack to become the dominant alpha wolf!
Meet Matt Kruse, the man making Facebook better. Around ten o'clock on most nights, Matt Kruse will kiss his wife and two daughters goodnight, sit down in front of his computer and start coding.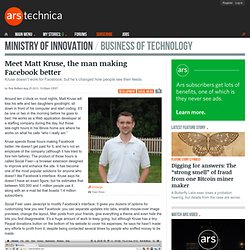 It'll be one or two in the morning before he goes to bed. He works as a Web application developer at a staffing company during the day, but those late-night hours in his Illinois home are where he works on what he calls "who I really am." Kruse spends those hours making Facebook better. He doesn't get paid for it, and he's not an employee of the company (although it has tried to hire him before). Teksquisite : This is why I mainly spend... #Facebook gets #hashtags, which does #WTF to your #privacy? Facebook Graph Search Failed Me! Facebook Graph Search: It's about the data! The first thing to ask whenever Facebook (or indeed any other business) releases a new product or service is what's in it for them.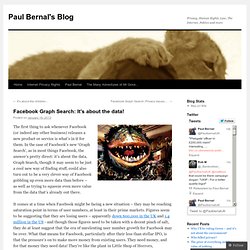 In the case of Facebook's new 'Graph Search', as in most things Facebook, the answer's pretty direct: it's about the data. Graph Search, though it may seem to be just a cool new way of finding stuff, could also turn out to be a very clever way of Facebook gobbling up even more data than before – as well as trying to squeeze even more value from the data that's already out there.
It comes at a time when Facebook might be facing a new situation – they may be reaching saturation point in terms of user numbers, at least in their prime markets. Teksquisite : I messaged Mr. Zuckerberg this... Teksquisite : I was researching "regnow"... Facebook restores elbow photo mistaken for breast. Nov. 28 (UPI) -- In the wake of recent breastfeeding photo controversies, the (NSFW) blog Theories of the deep understanding of things decided to test Facebook's terms of service and censorship policies by posting a photo of a bathing woman to its Facebook page.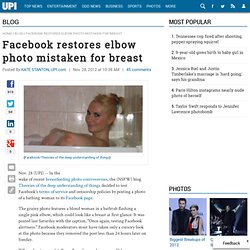 The grainy photo features a blond woman in a bathtub flashing a single pink elbow, which could look like a breast at first glance. It was posted last Saturday with the caption, "Once again, testing Facebook alertness. " Facebook moderators must have taken only a cursory look at the photo because they removed the post less than 24 hours later on Sunday. More than 1MM Facebook accounts exposed. Here's one theory and analysis of what might have happened.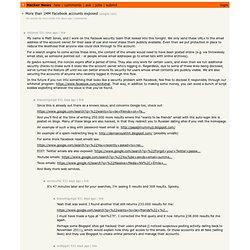 Some people's emails got out into the public internet, and were indexed. Some of these emails were from Facebook, and included links to resources that require login. These links pre-populated the username field for convenience, or in some cases auto-login the user. Facebook's engineers probably did not anticipate email notifications to users being crawled by Google. Teksquisite : Allegedly this person bought... Mixed Feelings After My Conversation With Facebook. | I Talk Web :@ Pinterest Explodes Into Mainstream | Wired Business.
Pinterest, Silicon Valley's startup of the moment, is starting to register with mainstream users.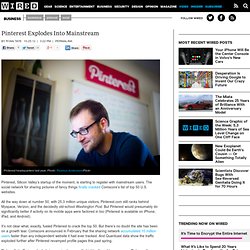 The social network for sharing pictures of fancy things finally cracked Comscore's list of top 50 U.S. websites. All the way down at number 50, with 25.3 million unique visitors, Pinterest.com still ranks behind Myspace, Verizon, and the decidedly old-school Washington Post. FACEBOOK: I WANT MY FRIENDS BACK. If you want to send Facebook a message, please feel free to use our graphics for your Facebook page This has been brewing since around May.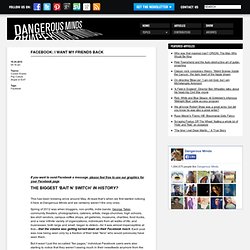 At least that's when we first started noticing it here at Dangerous Minds and we certainly weren't the only ones. Spring of 2012 was when bloggers, non-profits, indie bands, George Takei, community theaters, photographers, caterers, artists, mega-churches, high schools, tee-shirt vendors, campus coffee shops, art galleries, museums, charities, food trucks, and a near infinite variety of organizations; individuals from all walks of life; and businesses, both large and small, began to detect—for it was almost imperceptible at first—that the volume was getting turned down on their Facebook reach.
The Reason I'm Closing Down Our Facebook Fan Page - TentBlogger. Want to reach your fans?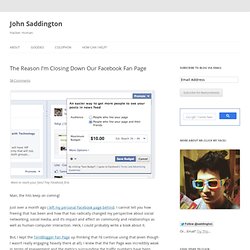 Pay Facebook first. Man, the hits keep on coming! Just over a month ago I left my personal Facebook page behind. I cannot tell you how freeing that has been and how that has radically changed my perspective about social networking, social media, and it's impact and effect on community and relationships as well as human-computer interaction. Heck, I could probably write a book about it. Facebook knows exactly who you are… Every time you buy that case of beer with a loyalty card or check out the latest magical unicorn mask at Amazon; all your offline shopping and online browsing data creeps back to Facebook (a globally ubiquitous Mothership). They know exactly who you are , what type of toilet paper you buy, how many chicken breasts you ate last week – along with all those secret vices that you think you are hiding… We know how to get your messages to real people, nearly one billion of them, because we know exactly who they are and whom they trust.
Teksquisite : My insignificant APP STORE... Wash. to unveil voter registration on Facebook. Facebook Acquires 'Pieceable Viewer' Staff. Forget buying an entire company, Facebook on Monday announced the acquisition of a firms entire staff. The team at iOS app developer Pieceable Viewer are moving in to Facebook's new corporate headquarters. The announcement was revealed via the Pieceable website and notes that Facebook is not buying the company, its technology or its stored customer data, instead choosing to hire all of its workers, integrating them into the Facebook team.
Nyy9php Shared by teksquisite. Last year a Consumer Reports Study revealed that... The BULLDOG Estate: Help Topic - The Learning Curve - How to Spot and Avoid Fake Video & News Scams on Facebook. Woman charged with selling fake Facebook stock. Woman charged with selling fake Facebook stock. Preserving Cabrini-Green's images In the sharp sun of an April afternoon, Nate Lanthrum walks through the remains of Cabrini-Green giving away what he has taken.
He looks out of place, a white guy carrying a $1,500 Nikon D700 camera, but the residents are used to him by now and greet... Blackhawks thrilled to have Brent Seabrook back. Occupy Wall Street Occupies More Facebook Pages. Netflix earnings: 800,000 U.S. subscribers lost in Q3 - Oct. 24. Facebook privacy misleading for users- Guest column. No Facebook without the Dutch. Facebook: Brutal Dishonesty « UNCRUNCHED. Obama's New Facebook Intimidation Page; PROOF! | Conunderground.com. Barack Obama - Mur. Does Facebook track you when you log out? Are Facebook's latest changes making you share more than you realize? And is it hiding it from you when you check? « facebookprivacyandsecurity.
Nyybrp Shared by teksquisite. Blog. Facebook Scams. The BULLDOG Estate. The Facebook Privacy Saga. Anatomy of a Facebook Lynching - PCWorld. Don't blame DNS for Facebook outage, experts say. Connexion. Facebook is the top source for malware infections. IT Tek Tips. Teksquisite. Honest Computer Help.
---