Facebook
"No one knows who will live in this cage in the future, or whether at the end of this tremendous development, entirely new prophets will arise, or there will be a great rebirth of old ideas and ideals, or, if neither, mechanized petrification, embellished with a sort of convulsive self-importance.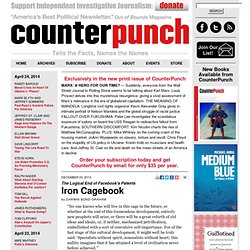 Iron Cagebook » CounterPunch: Tells the Facts, Names the Names
Wolf Pack, a Facebook app center game,blew me away recently when a fan messaged me and asked what I thought about a game that required a user to prove their real life identity. In this day and age of Internet snooping that includes hackers; advertisers; rogue Facebook apps; ID thief's, and Big Brother — who in their right mind would want to surf bare-bottomed and play a game that masks it's own identity behind a privacy shield?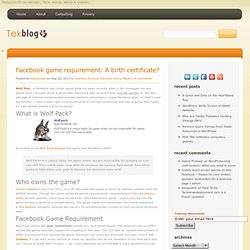 Facebook game requirement: A birth certificate? - Tekblog | Tekblog
Around ten o'clock on most nights, Matt Kruse will kiss his wife and two daughters goodnight, sit down in front of his computer and start coding.
Meet Matt Kruse, the man making Facebook better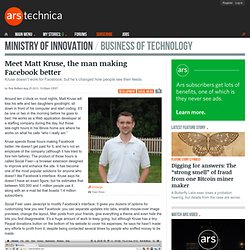 teksquisite : This is why I mainly spend
#Facebook gets #hashtags, which does #WTF to your #privacy?
Facebook Graph Search Failed Me!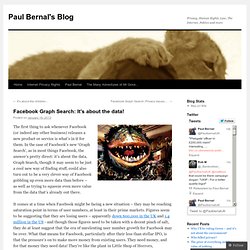 The first thing to ask whenever Facebook (or indeed any other business) releases a new product or service is what's in it for them. In the case of Facebook's new 'Graph Search', as in most things Facebook, the answer's pretty direct: it's about the data. Graph Search, though it may seem to be just a cool new way of finding stuff, could also turn out to be a very clever way of Facebook gobbling up even more data than before – as well as trying to squeeze even more value from the data that's already out there. It comes at a time when Facebook might be facing a new situation – they may be reaching saturation point in terms of user numbers, at least in their prime markets.
Facebook Graph Search: It's about the data! | Paul Bernal's Blog
teksquisite : I messaged Mr. Zuckerberg this
teksquisite : I was researching "regnow"
Nov. 28 (UPI) -- In the wake of recent breastfeeding photo controversies, the (NSFW) blog Theories of the deep understanding of things decided to test Facebook's terms of service and censorship policies by posting a photo of a bathing woman to its Facebook page. The grainy photo features a blond woman in a bathtub flashing a single pink elbow, which could look like a breast at first glance. It was posted last Saturday with the caption, "Once again, testing Facebook alertness." Facebook moderators must have taken only a cursory look at the photo because they removed the post less than 24 hours later on Sunday.
Facebook restores elbow photo mistaken for breast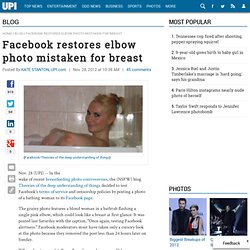 Here's one theory and analysis of what might have happened.
More than 1MM Facebook accounts exposed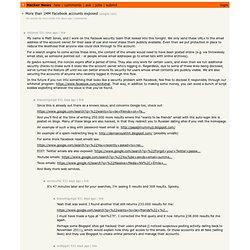 teksquisite : Allegedly this person bought
Mixed Feelings After My Conversation With Facebook. | I Talk Web :@
Pinterest Explodes Into Mainstream | Wired Business
Pinterest, Silicon Valley's startup of the moment, is starting to register with mainstream users. The social network for sharing pictures of fancy things finally cracked Comscore's list of top 50 U.S. websites. All the way down at number 50, with 25.3 million unique visitors, Pinterest.com still ranks behind Myspace, Verizon, and the decidedly old-school Washington Post.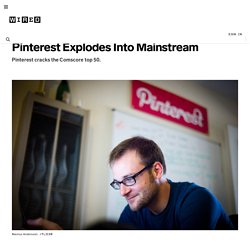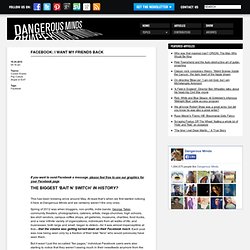 FACEBOOK: I WANT MY FRIENDS BACK
If you want to send Facebook a message, please feel free to use our graphics for your Facebook page This has been brewing since around May. At least that's when we first started noticing it here at Dangerous Minds and we certainly weren't the only ones. Spring of 2012 was when bloggers, non-profits, indie bands, George Takei, community theaters, photographers, caterers, artists, mega-churches, high schools, tee-shirt vendors, campus coffee shops, art galleries, museums, charities, food trucks, and a near infinite variety of organizations; individuals from all walks of life; and businesses, both large and small, began to detect—for it was almost imperceptible at first—that the volume was getting turned down on their Facebook reach.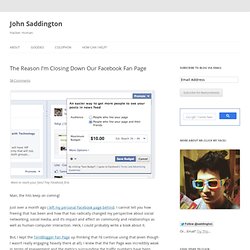 The Reason I'm Closing Down Our Facebook Fan Page - TentBlogger
Want to reach your fans? Pay Facebook first.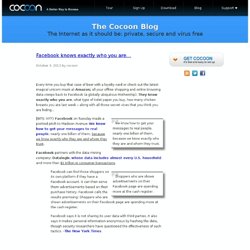 Facebook knows exactly who you are…
Every time you buy that case of beer with a loyalty card or check out the latest magical unicorn mask at Amazon; all your offline shopping and online browsing data creeps back to Facebook (a globally ubiquitous Mothership). They know exactly who you are , what type of toilet paper you buy, how many chicken breasts you ate last week – along with all those secret vices that you think you are hiding… We know how to get your messages to real people, nearly one billion of them, because we know exactly who they are and whom they trust.
teksquisite : My insignificant APP STORE
Wash. to unveil voter registration on Facebook | Local News | The Seattle Times
Facebook Acquires 'Pieceable Viewer' Staff
Forget buying an entire company, Facebook on Monday announced the acquisition of a firms entire staff. The team at iOS app developer Pieceable Viewer are moving in to Facebook's new corporate headquarters. The announcement was revealed via the Pieceable website and notes that Facebook is not buying the company, its technology or its stored customer data, instead choosing to hire all of its workers, integrating them into the Facebook team.
nyy9php Shared by teksquisite
Last year a Consumer Reports Study revealed that...
The BULLDOG Estate: Help Topic - The Learning Curve - How to Spot and Avoid Fake Video & News Scams on Facebook.
Woman charged with selling fake Facebook stock
$90 million to U. of C. meant to 'alter the course of cancer' Cancer researchers at the University of Chicago will get a substantial boost Monday, when an international nonprofit plans to announce that the university and five other leading institutions will each receive $90 million to advance new treatments aimed at... Odds and ends: Crabtree's healthy return lifts 49ers The San Francisco 49ers downed the Green Bay Packers 23-20 on Sunday evening on a last-second 33-yard field goal by Phil Dawson.
Occupy Wall Street Occupies More Facebook Pages
NEW YORK (CNNMoney) -- For Netflix, the hits keep on coming -- the bad kind. The latest thwack: Netflix lost 800,000 U.S. subscribers in the quarter that just ended, which was littered with PR nightmares including a price hike and the Qwikster debacle. It was the first time in years that Netflix's U.S. customer base shrank instead of grew. Netflix spoke bluntly about the recent problems in its third-quarter earnings letter, released late Monday. "The last few months...have been difficult for shareholders, employees, and most unfortunately, many members of Netflix," Netflix CEO Reed Hastings wrote in a letter to shareholders. "We've hurt our hard-earned reputation, and stalled our domestic growth."
Netflix earnings: 800,000 U.S. subscribers lost in Q3 - Oct. 24
Facebook privacy misleading for users- Guest column
No Facebook without the Dutch
Facebook: Brutal Dishonesty « UNCRUNCHED
Obama's New Facebook Intimidation Page; PROOF! | Conunderground.com
Barack Obama - Mur
Does Facebook track you when you log out?
Are Facebook's latest changes making you share more than you realize? And is it hiding it from you when you check? « facebookprivacyandsecurity
nyybrp Shared by teksquisite
Blog
Facebook Scams
The BULLDOG Estate
The Facebook Privacy Saga
Anatomy of a Facebook Lynching - PCWorld
Don't blame DNS for Facebook outage, experts say
Facebook is the top source for malware infections
IT Tek Tips
Teksquisite
Honest Computer Help
Huh! I am trying to figure out what all these discussions have to do with "Honest Computer Help?" by teksquisite Aug 13