Technology
Software. Free and Inexpensive Ways to Pick Up Open Source Tech Skills. By Sam Dean - Aug. 16, 2013Comments (0) This week Twitter was in the news for buying San Francisco-based company Marakana, which has focused on tech training, including training many people to use open source technology platforms and tools.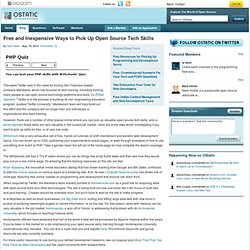 As ZDNet reported, "Twitter is in the process of building its own engineering education program, dubbed Twitter University. " Marakana's team will help build out this effort and the company will no longer train any individuals or organizations who want training. However, there are a number of other places online where you can pick up valuable open source tech skills, and as we've reported these skills are very valuable in the current job market. Office software. 10 tips for mastering Microsoft Outlook 2013. Keeping track of emails, calendars and contacts can suck untold time out of any workday.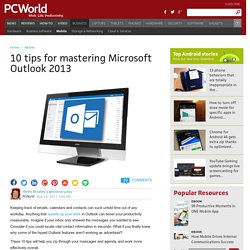 Anything that speeds up your work in Outlook can boost your productivity measurably. Imagine if your inbox only showed the messages you wanted to see. ReplaceReader.
Programming. What is graphene? Here's what you need to know about a material that could be the next silicon. Graphene, an emerging material that could change the way electronic components are made and help computing performance continue to grow, is everywhere in the research world these days.
This month alone, advancements suggested it could boost internet speeds, serve as a touch sensitive coating and extend the lives of computers. It is stronger than diamond and conducts electricity and heat better than any material ever discovered, and it will likely play an important role in many products and processes in the future. What is graphene? Graphene is made of a single layer of carbon atoms that are bonded together in a repeating pattern of hexagons. Graphene is one million times thinner than paper; so thin that it is actually considered two dimensional.
Brand Companies. Internet. Computer related technology. Mobile Devices. Computer-Human Interface. Who makes the best disk drives? Backblaze - the cloud backup company - continues to share their drive experience (see Build an 180TB storage array for $1,943*, How long do disk drives really last?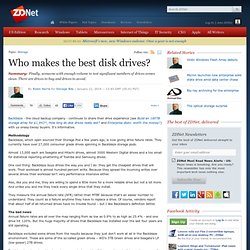 And Enterprise disks: worth the money?) With us onesy-twosy buyers. It's informative. MethodologyBackblaze, which open sourced their Storage Pod a few years ago, is now giving drive failure rates. The PC industry is heading for collapse. Over the past few days I've talked a lot about how we're leaving behind the PC era and moving instead to a 'post-PC' era.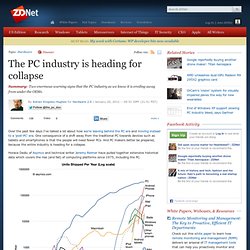 One consequence of a shift away from the traditional PC towards devices such as tablets and smartphones is that the people will need fewer PCs. And PC makers better be prepared, because the entire industry is heading for a collapse. Horace Dediu of Asymco and technical writer Jeremy Reimer have pulled together extensive historical data which covers the rise (and fall) of computing platforms since 1975, including the PC.
---