Copyright
Free_images
Fair Use and Copyright for Teachers. Introduction The Congress shall have the Power...
To promote the Progress of Science and useful Arts, by securing for limited Times to Authors and Inventors the exclusive Right to their respective Writings and Discoveries... Larry Lessig on The Colbert Report | Electronic Frontier Foundat. EduPic Graphical Resource for Educators. §. A Fair(y) Use Tale. FAQs for Teachers - Learning Centre - Library and Archives Canad. Archived Content This archived Web page remains online for reference, research or recordkeeping purposes.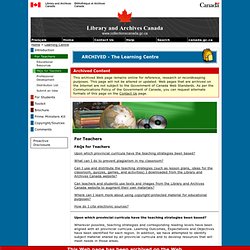 This page will not be altered or updated. Borrowing Images from the Web: An FAQ. This article includes modified content from Where to Find Free Images and Visuals for My Blog by Robin Good. To a struggling nonprofit or charity in need of images for its website or printed materials, the Internet might seem like one giant, free photo bank. But using copyrighted images without permission is illegal (yes, even if you're using them for a good cause).
---