1:1Learning
Maine
Internet_research_for_students. Assessment. Always On. One Laptop One Child. By Wayne D'Orio | September/October 2008 One to one?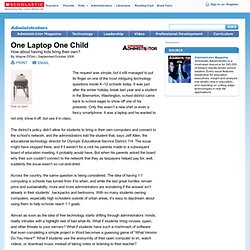 The request was simple, but it still managed to put its finger on one of the most intriguing technology questions inside K–12 schools today. What's the purpose of going 1:1 « The Thinking Stick. (Full Disclosure: I believe every high school student should have a laptop) The New York Times wrote an article on May 4th, 2007 that resurfaced via Twitter last night.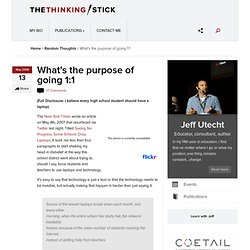 Titled Seeing No Progress, Some Schools Drop Laptops, It took me less than four paragraphs to start shaking my head in disbelief at the way this school district went about trying to, should I say, force students and teachers to use laptops and technology. It's easy to say that technology is just a tool or that the technology needs to be invisible, but actually making that happen is harder than just saying it. Scores of the leased laptops break down each month, and every othermorning, when the entire school has study hall, the network inevitablyfreezes because of the sheer number of students roaming the Internetinstead of getting help from teachers. A One-to-One Future. Ubiquitous technology is essential, and here's proof it works.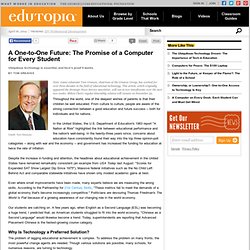 Credit: Tom Greaves Note: Guest columnist Tom Greaves, chairman of the Greaves Group, has worked for over three decades in the field of educational technology. This article, which originally appeared the Strategic News Service newsletter, will run in two installments over the next two weeks. Teachdigital / onetoone. If you are interested in booking me (Wesley Fryer) for a presentation or workshop (either face-to-face or over video) please visit my Speaking page on www.speedofcreativity.org/speaking.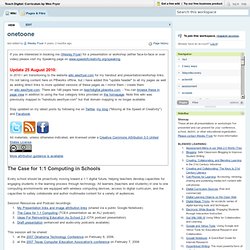 In 2010 I am transitioning to the website wiki.wesfryer.com for my handout and presentation/workshop links. I'm not taking content here on PBworks offline, but I have added this "update header" to all my pages as well as adding direct links to more updated versions of these pages as I mirror them / create them on wiki.wesfryer.com. There are 146 pages here on teachdigital.pbworks.com. - You can browse these in page view in addition to using the four category links provided on the homepage. A One-to-One Future.
The Ubiquitous Technology Dream. Talks (audio, video) Student Materials. Inspirational Talking Points Justifying 1:1 Computing. Ubiquitous Thoughts. Resources for Maine Teachers - Introduction. eSchool News online.
---