Reid Hoffman, Founder LinkedIn
Reid Hoffman (quixotic) Reid Hoffman. Partners - Team. Reid Hoffman. Reid Garrett Hoffman[2] (born August 5, 1967) is an American entrepreneur, venture capitalist and author.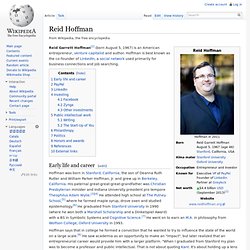 Hoffman is best known as the co-founder of LinkedIn, a social network used primarily for business connections and job searching. Early life and career[edit] Hoffman says that in college he formed a conviction that he wanted to try to influence the state of the world on a large scale.[6] He saw academia as an opportunity to make an "impact", but later realized that an entrepreneurial career would provide him with a larger platform.
---