Articles
Banking on mobile phones: Out of thin air. Twitter, Facebook, and social activism. At four-thirty in the afternoon on Monday, February 1, 1960, four college students sat down at the lunch counter at the Woolworth's in downtown Greensboro, North Carolina.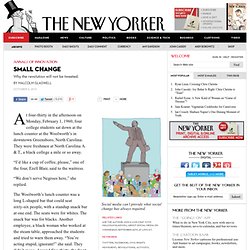 They were freshmen at North Carolina A. & T., a black college a mile or so away. "I'd like a cup of coffee, please," one of the four, Ezell Blair, said to the waitress. "We don't serve Negroes here," she replied. The Woolworth's lunch counter was a long L-shaped bar that could seat sixty-six people, with a standup snack bar at one end. Malcolm Gladwell Is #Wrong. Essay Maria Popova Malcolm Gladwell's take on social media is like a nun's likely review of the Kama Sutra — self-righteous and misguided by virtue of voluntary self-exclusion from the subject.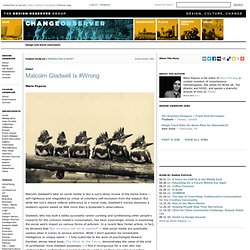 But while the nun's stance reflects adherence to a moral code, Gladwell's merely discloses a stubborn opinion based on little more than a bystander's observations. Gladwell, who has built a wildly successful career curating and synthesizing other people's research for the common reader's consumption, has been surprisingly remiss in examining the social web's impact on various forms of activism.
---