Drinkar
Best Tasting Jell-O Shot Recipes. Updated 10/29/09 The Experiment Previously, we investigated the strongest possible Jell-O shotand showed that a Jell-O shot can, in fact, be lit on fire.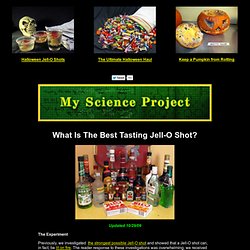 The reader response to these investigations was overwhelming, we received hundreds of methods and recipes for producing the "best" Jell-O shot. Equipped with this reader input, a minibar's worth of booze, a grocery cart full of Jell-O, and the spirit of scientific investigation, we embarked on a grueling series of further Jell-O shot trials, and here we present our findings. Nutella Shots. Guess what I am drinking tonight?
Ingredients & Measurements: • 1 cup ice • ½ cup milk • 2 tablespoons Nutella • 1 shot Baileys or Frangelico Hazelnut liquor • 1 shot vanilla vodka Instructions: Place all the ingredients into a blender and blend until thick and creamy. Pour into shot glasses and then you simply rim the shot glass with Nutella. 10 Best Sexual Drinking Games | Top Ten Soup. Some of the best sexual drinking games can be done either in an intimate setting with only you and your girlfriend or you can make it a party and have multiple people.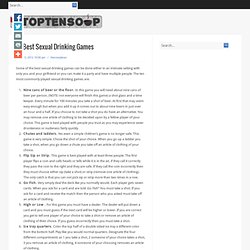 The ten most commonly played sexual drinking games are: Nine cans of beer or the floor. In this game you will need about nine cans of beer per person, (NOTE: not everyone will finish this game) a shot glass and a time keeper. Every minute for 100 minutes you take a shot of beer. Strawberry Sucker Recipe. Alcoholic Soaked Gummy Bears | Recipe | Cut Out + Keep - StumbleUpon. Jelly Shot Test Kitchen - StumbleUpon.
StumbleUpon.
---