Security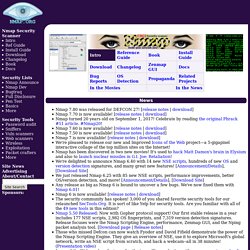 We're pleased to release our new and Improved Icons of the Web project—a 5-gigapixel interactive collage of the top million sites on the Internet! Nmap has been discovered in two new movies! It's used to hack Matt Damon's brain in Elysium and also to launch nuclear missiles in G.I. Joe: Retaliation! We're delighted to announce Nmap 6.40 with 14 new NSE scripts, hundreds of new OS and version detection signatures, and many great new features!
Riverbed is Wireshark's primary sponsor and provides our funding. They also make great products. Free 30 day trial Save hours on network and application issue diagnosesMonitor physical and virtual environmentsGUI packet capture and analysisFully integrated with Wireshark WLAN packet capture and transmissionFull 802.11 a/b/g/n supportView management, control and data framesMulti-channel aggregation (with multiple adapters)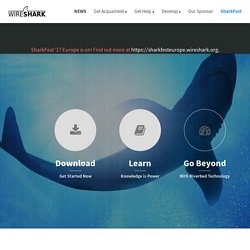 Enterprise Management Solutions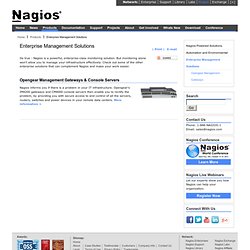 Its true - Nagios is a powerful, enterprise-class monitoring solution. But monitoring alone won't allow you to manage your infrastructure effectively. Check out some of the other enterprise solutions that can complement Nagios and make your work easier. Nagios informs you if there is a problem in your IT infrastructure. Opengear's IM4200 gateways and CM4000 console servers then enable you to rectify the problem, by providing you with secure access to and control of all the servers, routers, switches and power devices in your remote data centers. More information >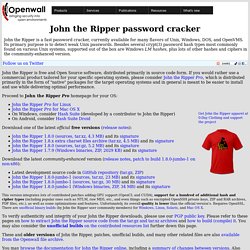 John the Ripper is free and Open Source software, distributed primarily in source code form. If you would rather use a commercial product tailored for your specific operating system, please consider John the Ripper Pro, which is distributed primarily in the form of "native" packages for the target operating systems and in general is meant to be easier to install and use while delivering optimal performance. This version integrates lots of contributed patches adding GPU support (CUDA and OpenCL), support for a hundred of additional hash and cipher types (including popular ones such as NTLM, raw MD5, etc., and even things such as encrypted OpenSSH private keys, ZIP and RAR archives, PDF files, etc.), as well as some optimizations and features.
If you use a lot of online services it also means that you have got a lot of passwords and usernames to remember. Aware of this issue, all Internet browsers have got a special feature which, as soon as you login your email account for example, prompt you to save password and username so that, next time you will use the service again, the browser will fill in the login interface for you. However, while the username is fully displayed, the password is hidden by asterisks. Now, if for any reason you don't remember such a password you won't have any way to recover it. Usually, to get it back, you will have to buy a special piece of software.