Foodwishes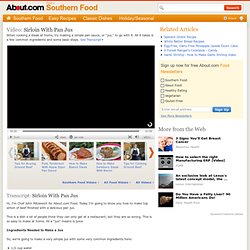 When cooking a steak at home, try making a simple pan sauce, or "jus," to go with it. All it takes is a few common ingredients and some basic steps.See Transcript
Sirloin With Pan Jus Recipe - How to Make Sirloin With Pan Jus Video
Why am I'm doing a baby back ribs video in the dead of winter. I love how they taste. Sorry I don't have a more interesting answer for you, but I'll be damned if I'm going to let the earth's periodical tilting away from the sun prevent me from enjoying these tasty pieces of pork.
You Want Your Baby Back Ribs? Sure, Just Stop Singing that Song!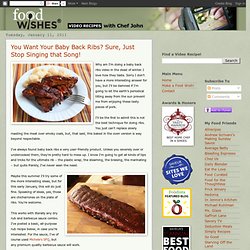 "Get Well Soon" Chicken Soup - Take 2 bowls and email me in the morning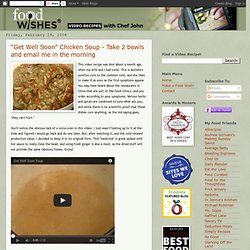 This video recipe was shot about a month ago, when my wife and I had colds. This is Michele's surefire cure to the common cold, and she likes to make it as soon as the first symptoms appear.
I was calling this green coconut chicken recipe a curry all the way up until I started writing the post.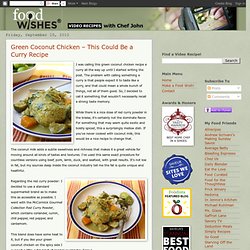 Green Coconut Chicken – This Could Be a Curry Recipe
Six Stew (or Stew-like) Recipe Videos for a Cold and Rainy Monday
I'm in the middle of doing my taxes, and while making so little money does make it fairly straightforward, there is still a lot of paperwork to get through. So, since it is pouring rain in San Francisco today, I thought I would link to six great stew recipes, all perfect for days like this. I hope to be back with a new video tomorrow, so until then you'll just have to sit and stew.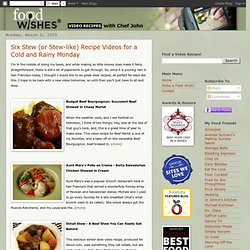 The only thing more popular than pork belly is using the word "unctuous" to describe it. If you're not familiar with the word, it has several definitions, but in a foodie context it's used to describe something rich, luxurious, and fabulously fatty - think bone marrow, foie gras, and of course, pork belly. If you're a food writer, and you're doing a review or article about pork belly, you have to use the word unctuous or unctuousness whether you understand what it means or not.
Caramel Pork Belly - Understanding Unctuous Unctuousness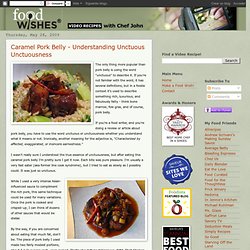 Pastafazool – Italian Soul Food at its Best!
The dish we are making today is really called "Pasta e fagioli," "pasta and beans." But, is (mis)pronounced and (mis)spelled by most Italian-Americans (me being one) as "Pastafazoo."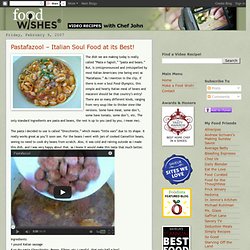 Food Wishes Recipes