Spelling
mgm2.swf (application/x-shockwave-flash Object)
whizz.swf (application/x-shockwave-flash Object)
dob.swf (application/x-shockwave-flash Object)
Instructions: Spell words by clicking adjacent letters. More points are scored by spelling longer words and words with uncommon letters such as Z and X. Submit a word by double-clicking the last tile of the word. If it's in our dictionary, the tiles used to form the word will be removed.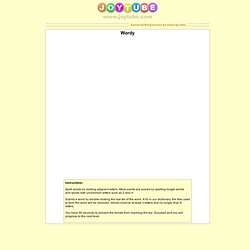 Wordy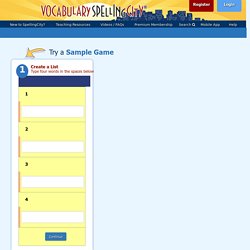 Expressing our Gratitude VocabularySpellingCity appreciates teachers and parents who recommend our site and mobile apps to colleagues and friends, share us on Facebook, follow us on Twitter, and other social media. Thanks to all teachers who have shared their best classroom practices using VocabularySpellingCity via online reviews, speaking at conferences and posting on social media about us. We especially appreciate the thoughtful input you give us to help guide our product development to better serve you and your students. The VocabularySpellingCity team has also developed Science4Us.com which provides an elementary core science curriculum specifically for kindergarten, first grade, and second grade. Science4Us supports teachers and provides student activities both online and offline using the 5E instructional model.
Pick a name for yourself on our site! To protect your privacy, please don't include your real name in your username. Your username should be at least 3 characters long. Sorry, you can't use that. Pick something else!
Spelling Games - Play Free Spelling Games at GamesGames.com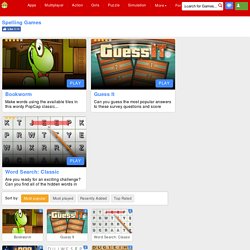 Spelling Match Game
Homework Hub: My To-Do List
Spelling Program | Spelling Homework | Spelling Help | Spelling Activities | Spelling Test | speak & spell

Mom Its fifteen minutes a day that I don't have to beg my child to do their work. We immediately saw results with my little one's test scores going from 60s to 100s. Great program!