Spelling
The Ultimate Word Search Maker. Mgm2.swf (application/x-shockwave-flash Object) Whizz.swf (application/x-shockwave-flash Object) Dob.swf (application/x-shockwave-flash Object) Wordy. Instructions: Spell words by clicking adjacent letters.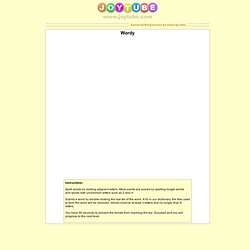 More points are scored by spelling longer words and words with uncommon letters such as Z and X. Submit a word by double-clicking the last tile of the word. If it's in our dictionary, the tiles used to form the word will be removed. Catch the Spelling (Online Game for Studying Spelling & Vocabulary) Spelling & Vocabulary Website: SpellingCity. Spelling Games - Play Free Spelling Games at GamesGames.com. Pick a name for yourself on our site!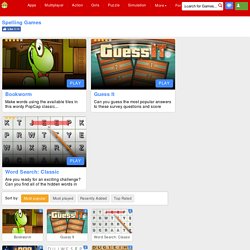 To protect your privacy, please don't include your real name in your username. Your username should be at least 3 characters long. Sorry, you can't use that. Pick something else! SpinandSpell.com. Spelling Match Game. Homework Hub: My To-Do List. Spelling Program | Spelling Homework | Spelling Help | Spelling Activities | Spelling Test | speak & spell.
Free Spelling Games And Activities For Kids - By KidsSpell.com.
---